Kansas public school removes Jesus picture after group complains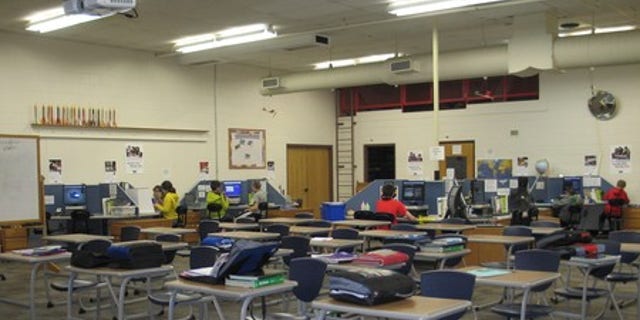 NEWYou can now listen to Fox News articles!
A Kansas public school has removed a picture of Jesus that hung in a hallway for decades after a complaint from a national church-state separation group, The Wichita Eagle reported.
Royster Middle School removed the print of Warner Sallman's "Head of Christ" last Thursday, following a complaint from the national Freedom From Religion Foundation, Richard Profitt, the school superintendent, said Friday.
Proffitt, who is in his first year as Chanute superintendent, said the picture was taken down after the district's lawyer advised that the school could not legally display it.
"Oh man, it's getting bad."
"Oh man, it's getting bad," said Erika Semey, who attended Royster 10 years ago. "That's what's wrong with this world. Not enough people have Christ in their lives."
Ryan Jayne, a spokesman for the Freedom From Religion Foundation, which is dedicated to the principle of separation of church and state, said it's "wonderful" that the picture has been taken down so quickly.
"It's nice to have people who appreciate the law and get things done (and) who follow the law even if it's likely to be unpopular in the community," Jayne said.
It is the second time that Jayne has worked with Proffitt to resolve an issue of religion at a school.
According to the Eagle, the foundation filed a complaint last year with another Kansas district – where Proffitt was then-superintendent – after a teacher allowed a member of Gideons International to speak in his class and hand out Bibles to students. Proffitt put a stop to the Bible distribution.
Proffitt, who expects to take some heat over removal of the Jesus picture, told the paper he thinks the Freedom From Religion Foundation was alerted to the picture after a recent school visitor took a snapshot of it and sent it to the foundation, which then made its complaint.