Kansas police investigate whether fatal shooting was result of prank called 'swatting'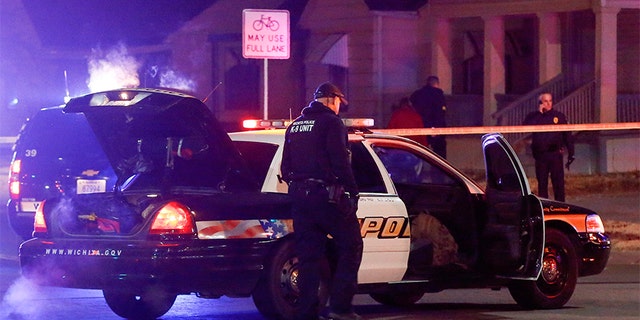 Kansas officials and the FBI are investigating whether a fatal shooting by a police officer on Thursday was the grim outcome of a prank by video gamers.
Officials said the death of an unarmed man, whom family members identified as Andrew Finch, 28, at a home in Wichita, may have been the result of a hoax called "swatting." As defined by 911.gov, swatting is "false reporting an emergency to public safety by a person for the intent of getting a ('SWAT team') response to a location where no emergency exists."
Los Angeles police on Friday arrested Tyler Barriss, 25, claimed by law enforcement to be the "prankster" who called 911 and made up a story about a kidnapping in Wichita, KABC reported.
Barriss reportedly gave police the address he believed the other gamer lived.
Wichita Deputy Police Chief Troy Livingston said Thursday's shooting, which he deemed a "tragic and senseless act," happened when an officer was responding to a call from someone claiming his father had been shot in the head.
The caller said he was holding his mother and a sibling at gunpoint, and noted he poured gasoline inside the home "and I might just set it on fire."
"That was the information we were working off of," Livingston said. Police released audio of the 911 call, and also released a brief video of body camera footage at the scene.
WARNING: GRAPHIC CONTENT
Supposedly responding to a hostage situation, police arrived at the home and "got into position," Livingston said.
Finch went to the front door, and after sporadically complying with "several verbal commands" to put his hands in the air, was shot by an officer who allegedly thought Finch had drawn a weapon from his waistband. Finch later died at a hospital.
The deputy police chief said Finch was not armed.
"Due to the actions of a prankster we have an innocent victim," Livingston said at a Friday night news conference. He said no one has been arrested in connection with the hoax.
A woman named Lisa Finch told The Wichita Eagle that her son, Andrew, was the victim. She said Andrew, who has two young children, walked to the door after hearing something, then screamed and was shot, before family members were forced to go outside barefoot in the freezing cold and were cuffed.
Lisa Finch added that her granddaughter was forced to step over her dying uncle, and that no guns were found in the home.
"What gives the cops the right to open fire?" Lisa Finch asked. "That cop murdered my son over a false report in the first place."
"I can't believe people do this on purpose."
Andrew Finch's aunt, Lorrie Hernandez-Caballero, called whoever made the false report to police a "murderer."
"I can't believe people do this on purpose," the aunt told the newspaper.
Finch, described by his mother as a "very kind and caring" man who would "do anything for his family," leaves behind two children, ages 2 and 7.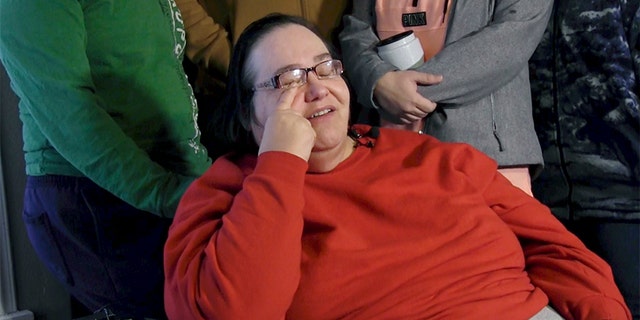 The events that may have led to the fatal police shooting Thursday began with an online argument over a $2 wager in a "Call of Duty" game on UMG Gaming, gaming-focused news service Dexerto reported. Two players arguing after losing a match reportedly threatened to "swat" one another.
UMG Vice President Shannon Gerritzen told The Associated Press that the company was "doing everything we can to assist the authorities" as they investigate the fatal shooting, and a Twitter account for the company said: "We woke this morning to horrible news about an innocent man losing his life. Our hearts go out to his loved ones."
At Friday's news conference, Livingston didn't mention reports that the call may have stemmed from an argument over an online game.
Livingston called the emergency call a "little peculiar," as it "went to a substation first, then it was relayed to dispatch, then dispatch gave it to us. We have a lot of information to go through."
The deputy chief added that detectives investigating the episode have so far found "promising information." He added that while in general, law enforcement is aware of "swatting," calls made to 911 are "based on the premise" that someone is calling to get immediate help in an emergency.
COPS, SWAT TEAM DESCEND ON HOME AFTER VIDEO GAME HOAX
The officer who fired the shot — a seven-year veteran of the police force — has been placed on paid administrative leave, which is department policy.
Kansas law makes some false emergency calls a felony that can be punished up to 13 months in prison for a first-time offender, although the presumed sentence is probation.
Swatting, according to 911.gov, can be done via several techniques, including caller ID spoofing. Those making the false call to law enforcement "will often have a reasonable scenario and will sometime include personal information."
The FBI estimates that roughly 400 cases of swatting occur annually. An FBI supervisor in Kansas City, Missouri, which covers all of Kansas, said the agency joined in the investigation at the request of local police.
TERROR, COMMUNITY PRESSURE AFFECTS SCHOOLS' RESPONSES TO THREATS
In other cases of apparent swatting, three families in Florida in January had to evacuate their homes after a detective received an anonymous email bomb threat.
A 20-year-old Maryland man was shot in the face with rubber bullets by police in 2015 after a fake hostage situation was reported at his home.
Rep. Katherine Clark, D-Mass., introduced an anti-swatting bill in 2015 — then was herself the victim of swatting. Armed officers in 2016 responded to an anonymous call claiming an active shooter was at her home.
The Associated Press contributed to this report.