Justin Trudeau's motorcade crash injures 3, including California Highway Patrol Officer
NEWYou can now listen to Fox News articles!
Canadian Prime Minister Justin Trudeau's motorcade was involved in a car crash Friday evening that left at least three people injured, including a California Highway Patrol officer.

Trudeau, who was traveling in the motorcade at the time of the crash was not injured, officials said. His car was not involved in the collision, the CBC reported.
The prime minister was in California giving a speech at the Ronald Reagan Presidential Library and Museum in Simi Valley, Calif., before the incident.
TRUDEAU THREATENS 'NO DEAL' ON NAFTA, CLAIMS 'PEOPLEKIND' COMMENT WAS A JOKE
A California Highway Patrol officer, who was leading the motorcade, attempted to stop a vehicle but the car made a left turn colliding with the officer's motorcycle, CBC reported.
The unidentified officer was taken to the hospital with serious, but non-life-threatening injuries.
Simi Valley Police Sgt. Chris Johnson said the officer was "thrown off the motorcycle."
"The vehicle involved in the crash was not part of the motorcade," Johnson said.
CANADA'S TRUDEAU CORRECTS WOMAN FOR USING 'MANKIND' AT TOWN HALL
The driver of the car and her child were taken to the hospital as a precautionary measure.
The crash is under investigation.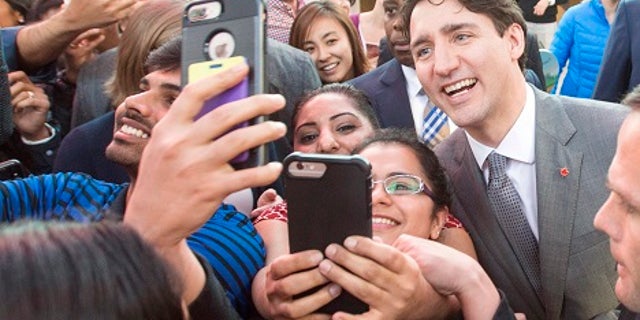 Sgt. SauL Gomez of the California Highway Patrol said the driver could be charged if she is found to be at fault for the collision.
The Canadian prime minister was in the U.S. to talk about trade, jobs, and economic growth. On Saturday, Trudeau will join the mayor of Los Angeles Eric Garcetti for a media event before traveling home to Canada.