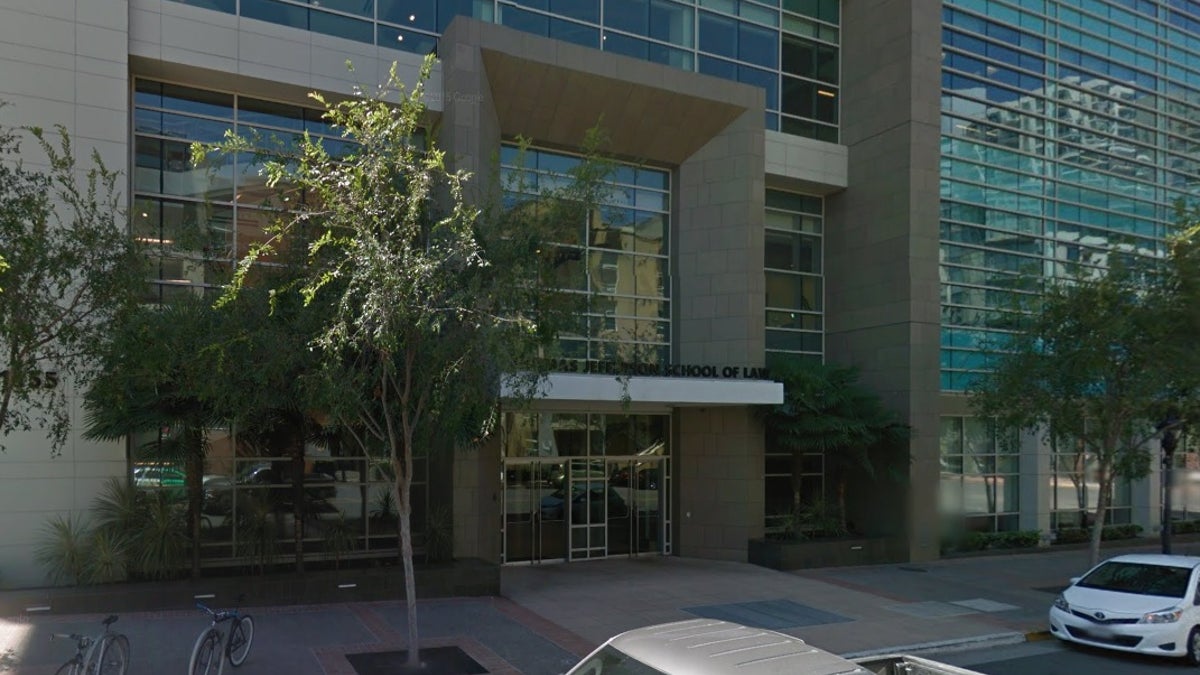 A jury found Thursday that a San Diego law school did not mislead a graduate who sued on the grounds she was lured to the school by false promises that her degree would land her a job after graduating.
The San Diego Superior Court jury rejected Anna Alaburda's claim against the Thomas Jefferson School of Law on a 9-3 vote that was reached after about four hours of deliberations over two days.
While more than a dozen similar lawsuits have been filed in courts across the country, the case is believed to be the first of its kind to go to trial.
Alaburda, who filed her lawsuit in 2011, argued that Thomas Jefferson used inflated data to bolster the success rate of its job-seeking graduates. The 37-year-old woman graduated near the top of her class in 2008 and says she has been unable to find a full-time job as a lawyer. Meanwhile, she said has been saddled with $170,000 in student debt. She sought $125,000 in damages.
The trial came amid growing debate over such promises by schools competing to recruit students. The lawsuit was among more than a dozen similar ones filed in recent years against law schools, including Golden Gate University School of Law in San Francisco and the University of San Francisco School of Law. Though most of the lawsuits have been dismissed, critics say they point to a need for greater regulation and transparency for law schools, so prospective students know their employment prospects, the debt they will incur and their chances of successfully passing the bar.
Michael Sullivan, an attorney for the law school, acknowledged "isolated mistakes" and "clerical errors" in data collection but said there was no evidence that the school lied. He said the verdict set no precedent but may send a signal to other students who sue. "Having an opportunity where it's fully litigated, and depositions and documents examined, to see the hype, the chatter about that did not prove to be the truth, as found by a jury, I think that's a helpful message," Sullivan told reporters after the verdict.
Juror Wade DeMond, who works on regulatory affairs in the pharmaceutical industry, said he questioned how Thomas Jefferson collected employment data after Alaburda's time but that it made a good-faith effort in her case.
"The jury instructions, the questions we were asked, were very specific and they were time-bound: Did Thomas Jefferson falsely represent employment data for the U.S. News & World Report editions that she reviewed? So that means the whole thing gets narrowed down to the 2004 and the 2005 editions," he told reporters.
Thomas Jefferson reported post-graduation employment figures that exceeded 70 percent and topped 90 percent in 2010. But the school did not disclose that those figures included part-time and non-legal work such as a pool cleaner and a sales clerk at Victoria's Secret and were based on a small sample of graduates, said her attorney, Brian Procel.
Procel has said the school has routinely reported unemployed students as employed and shredded surveys and other documents that reflected a more accurate employment picture.
The lawsuits against Golden Gate University and the University of San Francisco also alleged the schools were misrepresenting their post-graduate employment figures.
The Golden Gate lawsuit was settled, with each of the five plaintiffs receiving $8,000, according to a May 2015 court filing. The case against the University of San Francisco was dismissed in May. In court filings, both schools said data were available that showed what percentage of students actually obtained jobs at law firms.
The American Bar Association has since required schools to publish a more detailed breakdown of their employment figures that, among other things, distinguishes full-time from part-time jobs.
Thomas Jefferson representatives noted broad efforts to improve reporting at all law schools and expressed regret about any stain that the lawsuit inflicted on the school's reputation.
"This is not, you know, Trump University," Sullivan said. "It is so not that. It is such a really excellent law school."