Judge rules Missouri family's purple swingset can stay
A Missouri judge has ruled that a suburban Kansas City family's purple swingset won't need to have its color changed after a homeowners' association threatened the family with fines or jail time.
"We're super excited, we're very happy," Marla Stout, who owns the swingset, told Fox4KC at a neighborhood barbecue Sunday celebrating Friday's ruling.
Stout told "Fox & Friends" earlier this month that she painted the swingset purple at the request of her two young daughters more than two years ago. But it was only this summer that the homeowners' association for the subdivision the Stouts live in told Marla that the color was not in harmony with others in the neighborhood.
Stout also told Fox4KC that she received a letter from the homeowners' association saying that she hadn't gotten the playset color pre-approved. Another letter from the homeowners' group said the lawsuit will cost the Stouts "far greater than any principal [sic] you are trying to prove."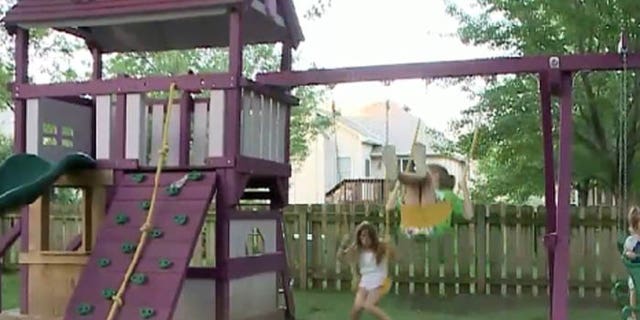 Stout said that when she and her husband Jack offered to repaint the swingset gray, the association refused.
"We got very frustrated," Stout said. "There's somewhere between 2,000 and 3,000 homes in our community. There's all kinds of colors. There's people with bright purple doors. There's trees that are the color of this swing set."
After an initial hearing Aug. 21, the ruling in the Stouts' favor came down Friday. Now Marla Stout said she believes the homeowners' association should apologize to the entire neighborhood.
"It's been very embarrassing for our community and its cost every resident in this community a lot of money and reputation," she told Fox4KC.
"I think it said a lot that the judge took a week to review the case, review the facts, review everything," said T.R Hoefle, the family's attorney. "I'm thrilled with the decision she made."
The homeowners' association has yet to comment publicly on the dispute or the judge's decision.