Judge denies Sandusky's bid for more details of alleged crimes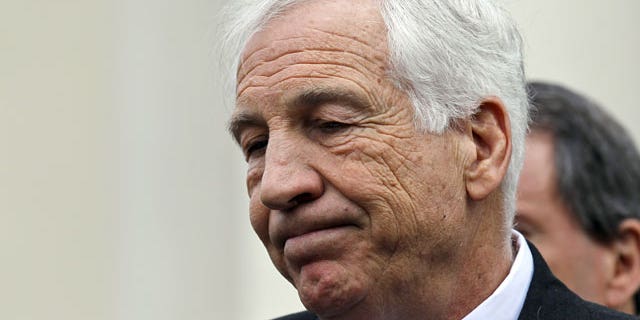 HARRISBURG, Pa. – The judge in former Penn State assistant football coach Jerry Sandusky's child sexual abuse case said Tuesday that a defense request for more information regarding when and where the alleged crimes occurred is moot because prosecutors have said they cannot produce additional detail.
Judge John Cleland issued the order a day after the two sides debated the matter before him in a central Pennsylvania courtroom.
Sandusky lawyer Joe Amendola said in response that he intended to file a motion next week asking to dismiss all charges "for lack of specificity."
"What he's saying is exactly what the case law says can result in a case being chucked," Amendola said. "If the commonwealth can't be more specific, the defendant can't adequately present their defense."
A spokesman for the attorney general's office declined to comment.
Cleland said a long line of state cases has addressed the requirement that prosecutors establish fixed dates when they charge defendants with assaults against children.
The judge said that set of cases "provides the commonwealth greater latitude when the alleged crimes involve sexual offenses against a young child."
Richard Serbin, an Altoona lawyer who has pursued sexual abuse lawsuits against Roman Catholic clergy in Pennsylvania for many years, said it's not unusual for people who were victimized as children to be unable to provide exact times and dates.
"Children, they don't write down in a diary the date that it occurred, and all the details," said Serbin, who does not represent anyone in the Sandusky case. "It just doesn't happen that way."
He said trial court judges have a lot of discretion in how such testimony is handled, and how Cleland rules could be part of any post-verdict appeal.
"It's going to have to play out," Serbin said. "Is the witness credible? And is there enough information to satisfy the trier of fact?"
Cleland also issued a two-paragraph order, based on an agreement among the lawyers, that the names of people identified in grand jury reports as victims 1 through 10 remain under seal "and may not be disclosed by any person, except pursuant to court order" or other judicial authorization.
He said any subpoenas involving alleged victims have to carry an 18-point notice noting that the names or identifying information for the alleged victims may not be disclosed, and that violators may be held in contempt of court.
Sandusky, 68, is accused of sexually abusing 10 boys over 15 years, allegations he has repeatedly denied. He is confined to his home while he awaits a mid-May start of trial.
In the Bellefonte courtroom on Monday, prosecutor Joseph McGettigan said additional details were not available because the purported victims were children, the events traumatized them, some have emotional and psychological difficulties and the alleged behavior included efforts to conceal it.
McGettigan told Cleland that other discovery materials handed over to Amendola have provided some more detail, but Amendola said they did not include information that might help him develop a defense based on alibi, statute of limitations, double jeopardy or other grounds.