Joel Osteen tells Hurricane Harvey victims to not have 'poor old me mentality'
Televangelist Joel Osteen told parishioners on Sunday that Hurricane Harvey survivors should not have a "poor old me mentality."
Osteen made the remark during a service at his megachurch in Houston following widespread criticism he shut his doors on Hurricane Harvey victims.
Osteen reopened his Lakewood Church to the public Sunday and addressed the criticism he faced after social media critics slammed the televangelist for not offering to house the storm's victims at the 16,000 seat arena in the aftermath of the storm. The church officially opened its doors and took in hundreds of evacuees last Tuesday.
Many in the audience said they were victims of Harvey, Newsweek reported.
TYLER PERRY PLEDGES $1 MILLION TO VICTIMS OF HURRICANE HARVEY WITH $250G GOING TO JOEL OSTEEN'S CHURCH
"You know I really believe in these times of difficulty it's, for me, certainly not the time to question your faith but to turn to your faith, because God is the one that gives you the strength to make it through the difficult times," Osteen said. "We are not going to understand everything that happens but, you know, having a 'poor old me' mentality or 'look what I lost' or 'why did this happen', that's just going to pull you down. Like we've been talking about all night, you just got to turn it over and say 'God, you're still on the throne.'"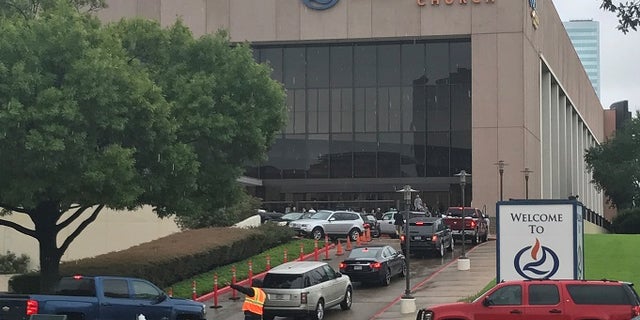 Osteen said there was "so much misinformation about the church this week" and explained to the audience the storm's floodwaters threatened to flood the arena.
JOEL OSTEEN: OUR CHURCH DIDN'T TURN PEOPLE AWAY AFTER HARVEY
"Had we opened the building sooner and someone got injured, or perhaps the building flooded and someone lost their lives, that would have been a very different story. Now I don't mind taking the heat for being precautious. But I don't want to take the heat for being foolish," Osteen said. "This is not just an attack on me, it's an attack on what we stand for—for faith, for hope, for love," he said. "Jesus even said, 'When the world hates you, remember: it hated me first.'"
The Associated Press contributed to this report.