J.Crew Ad Showing Boy With Pink Nail Polish Sparks Debate on Gender Identity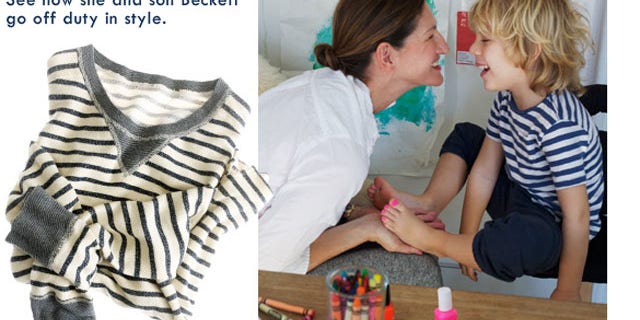 A J.Crew ad that shows a top designer painting her young son's toenails neon pink has some parents and doctors seeing red.
The image appeared in a feature called "Saturday With Jenna," which was emailed to customers last week and highlights a few of J.Crew president and creative director Jenna Lyons' favorite products -- including the hot pink Essie nail polish seen on her son, Beckett.
The caption below the picture reads, "Lucky for me I ended up with a boy whose favorite color is pink. Toenail painting is way more fun in neon."
But not everyone sees fun in the ad.
"This is a dramatic example of the way that our culture is being encouraged to abandon all trappings of gender identity," psychiatrist Dr. Keith Ablow wrote in a FoxNews.com Health column about the ad.
Media Research Center's Erin Brown agreed, calling the ad "blatant propaganda celebrating transgendered children."
"Not only is Beckett likely to change his favorite color as early as tomorrow, Jenna's indulgence (or encouragement) could make life hard for the boy in the future," Brown wrote in an opinion piece Friday. "J.CREW, known for its tasteful and modest clothing, apparently does not mind exploiting Beckett behind the facade of liberal, transgendered identity politics."
But Jo B. Paoletti, author of "Pink and Blue: Telling the Girls From the Boys in America" told FoxNews.com she believes critics are overreacting.
"Lots of kids, say 7 and under, might ask their parents for something that would seem to be cross gender, and I think most parents, especially in the privacy of their own home might think, what's the big deal?" Paoletti said.
J.Crew spokeswoman Margot Fooshee said the company had no comment on the ad. Jenna Lyons did not respond to direct requests for comment.
When asked if the ad crossed the line, a majority of Fox News Twitter users backed Paoletti.
"What line would that be? Not forcing your child to like a color just because gender stereotypes say they should?" one commenter known as along_the_path wrote.
But not everyone agreed.
"Why would I want my son to paint his toenails pink?" ohthatmomma wrote. "Why woukd [sic] I want my son to paint his toenails at all?"