Iowa community continues desperate search for missing college student
A central Iowa community is ramping up efforts to find a University of Iowa student who was reported missing Wednesday after she went for an evening jog.
Mollie Tibbetts, 20, was last seen in the town of Brooklyn, located 50 miles west of Iowa City, according to the Poweshiek County Emergency Management Agency. Tibbetts, who is described as 5-2, 120 pounds with brown hair and brown eyes, was last seen wearing gym shorts, a black sports bra and running shoes, according to the sheriff's office.
On Sunday, residents in the town were making missing posters of Mollie to hang on their front doors.
"We're a close knit community and I couldn't even imagine this happening to one of my kids. We love Mollie. They're family and we look after each other," volunteer Carla Kriegel told KCRG, adding her daughter made cards with information about Tibbetts, and is going to bring them around to local businesses.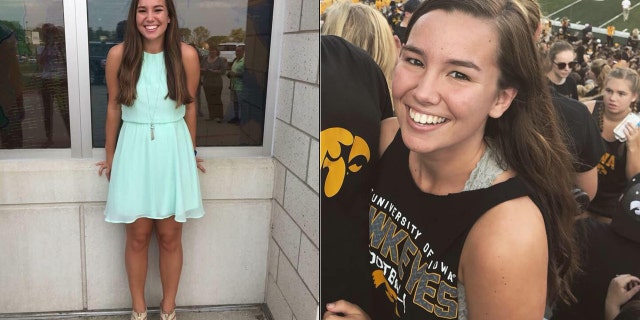 The last public search took place Friday, when community members and crews focused on the fields between Tibbetts' house and where she was dogsitting when she was last seen. The Poweshiek County Sheriff's Office has said the search for the 20-year-old is ongoing and additional information will be posted to social media accounts.
Tibbetts' aunt, Kim Calderwood told the Des Moines Register the entire situation is "frustrating" and she feels "powerless."
"We're racking our brains, thinking what can we think of to tell the investigators," she said. "It's the worst thing, to want to fix something you can't fix."
UNIVERSITY OF IOWA STUDENT REPORTED MISSING AFTER GOING FOR JOG, OFFICIALS SAY
Investigators are now working with the university and others to get access to a laptop and online accounts belonging to Tibbetts that may have an electronic footprint of her whereabouts, her cousin posted to a Facebook page set up to find the 20-year-old.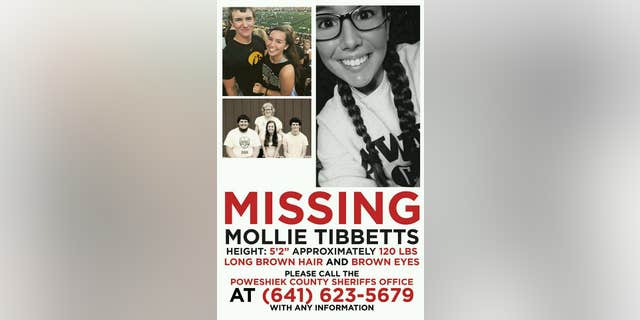 "It can be slow and frustrating, but it is our best hope of securing Mollie's location," Emily Heaston wrote.
The University of Iowa tweeted the school is "monitoring the situation"
The owner of a local screen printing company told the Register she has printed buttons and magnets for people to stick to the sides of their cars, and said t-shirts are arriving soon.
"A daughter to anybody in this community is a daughter to everybody," Brooklyn resident Joy Vanlandschoot told Des Moines register. "We all hope the same effort would be made toward our own children."