'Inverted Jenny' stamp could fetch more than $1M at upcoming auction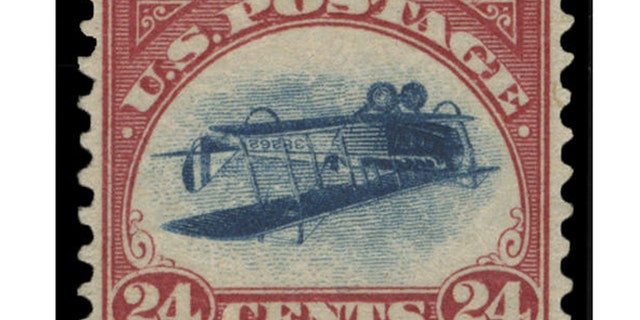 An ultra-rare stamp could sell for more than $1 million when it hits the auction block in New York City next week, analysts have estimated.
It was one of 100 "inverted Jenny" stamps, legends among collectors. They were issued in 1918 to celebrate the launch of U.S. air mail, but showed the Curtiss JN-4H "Jenny" biplane inverted. A savvy customer bought a 100-stamp sheet before anyone realized the error.
The stamp hitting the auction block on May 31 was "remarkable for its pristine state of preservation and for its centering," according to the auction house. Known as "Position 58," it was valued between $525,000 and $1.6 million.
Each stamp was worth 24 cents when it was first released.
Many other "inverted Jenny" stamps had their own histories. Another one surfaced in April six decades after it was stolen from a collectors' convention. A man in his 20s who lived in the United Kingdom said he'd inherited the stamp from his grandfather and knew little about it, said George Eveleth, head of Spink USA's philatelic department.
One stamp barely survived after it fell out of an album and a vacuum cleaner sucked it up, historians said.
Two of the Jenny stamps were recovered in the '70s and '80s from different Chicago stamp connoisseurs, who said they'd bought the stamps from people who had since died or whose names they didn't know, according to a 2014 article in the journal American Philatelist.
The stamp made its way into popular culture in movies such as 1985's "Brewster's Millions," in which Richard Pryor's character uses one to mail a postcard, and television shows including "The Simpsons," in which Homer Simpson finds but disregards a sheet of them at a flea market. The Postal Service issued a commemorative inverted Jenny stamp in 2013.
The Associated Press contributed to this report.