Interim Oakland police chief fired after six days on the job amid sex scandal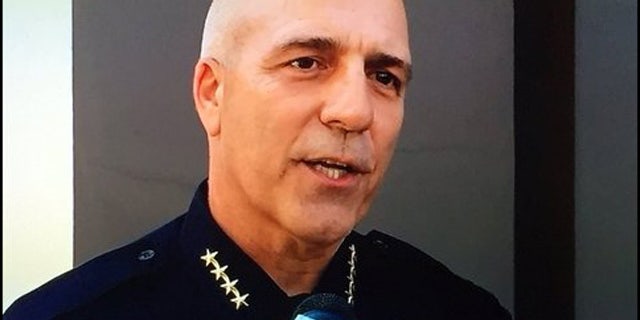 NEWYou can now listen to Fox News articles!
The mayor of Oakland, Calif, relieved the city's interim police chief of his duties Wednesday, less than a week after he was appointed to the post amid a widening sex scandal in the police department.
Oakland Mayor Libby Schaaf told reporters that she had "received information that has caused me to lose confidence in Ben Fairow's ability to lead the Oakland Police Department at this particular moment in time." Schaaf went on to call Fairow's hiring a mistake and said she should have taken more time to vet the officer.
Schaaf said state personnel laws prohibited her from elaborating on why she felt compelled to remove Fairow. Bay Area Rapid Transit (BART) Police Chief Kenton Rainey said later Wednesday he had welcomed Fairow back to his department and that Fairow had informed him he had an affair with a consenting adult while married more than a decade ago.

That doesn't preclude "him from serving as a sworn law enforcement officer or as one of my Deputy Chiefs," Rainey said.
Fairow, who previously spent 21 years as an officer in Oakland, was appointed after Chief Sean Whent resigned last Thursday after news of the scandal broke.
An 18-year-old woman has alleged in multiple news media interviews that two dozen current and former officers in five cities had sex with her while she worked as a prostitute. Encounters with three of the officers took place when she was a minor, the woman has said.
Before his sudden resignation last week, former chief Whent revealed that an Oakland officer's September suicide had led the department's internal affairs division to open an investigation into whether any current officers committed sexual misconduct with a minor.

Officer Brendan O'Brien killed himself a little more than a year after police say his wife, Irma Huerta-Lopez, also took her life. Whent did not specify how O'Brien's suicide led to the sexual misconduct probe.
Two officers with the historically troubled Oakland department have resigned, and three others remain on paid leave in the sex misconduct case.
The Oakland Police Department is currently under federal oversight because of past failures to adequately hold officers accountable for misdeeds that included planting evidence and robbing residents in predominantly black west Oakland.
Other law enforcement agencies in the area also are investigating possible misconduct by their officers. The police department in the city of Richmond said this week that several ranking officers are being investigated for criminal contact with the woman or policy violations.

Oakland City Councilwoman Rebecca Kaplan said Wednesday that the city council had not been briefed on the mayor's reasons for firing the interim chief. But Kaplan expressed concern about the police department's ability to investigate its own.

"We have a systemic problem here," she said. "What is going on with how this whole scandal is being handled by the department is ridiculous."
The Associated Press contributed to this report.