Indiana science teacher 'tackled' suspect during middle school shooting, student says
A science teacher reportedly sprung into action during a shooting at an Indiana middle school on Friday, knocking a weapon from the suspect's hand.
Seventh-grade student Ethan Stonebraker told The Associated Press that his science teacher at Noblesville West Middle School charged at the suspect, who he said revealed a weapon while the class was in the middle of a test.
"Our science teacher immediately ran at him, swatted a gun out of his hand and tackled him to the ground," Stonebraker said. "If it weren't for him, more of us would have been injured for sure."
Two people – a teacher and a student - were hurt after a male suspect excused himself from class Friday morning before returning with two handguns, authorities said. A call about an active shooter came in around 9 a.m. and the student was later detained, according to Noblesville Police Chief Kevin Jowitt.
"We do know the situation resolved extremely quickly," Jowitt said.
MALE STUDENT IN CUSTODY AFTER SHOOTING AT INDIANA MIDDLE SCHOOL; 2 VICTIMS REPORTED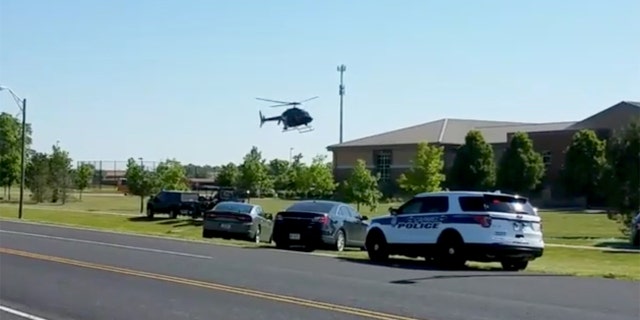 Authorities did not reveal the identities of the suspect or those who were injured, nor did they say whether the teacher who reportedly tackled the suspect was one of the wounded. However, students and parents informed The Indianapolis Star that the teacher who jumped in to stop the suspect was Jason Seaman. According to Fox 59, Seaman coaches football at the school.
Authorities referred to a prompt and heroic response but didn't confirm accounts of the teacher tackling the student.
When asked to elaborate on his praise about the response, Indiana State Police Superintendent Doug Carter said: "Wait 'til one day we can tell you that story. You'll be proud of them, too."
Seaman's brother, Jeremy, told the outlet that his brother was shot three times and went into surgery. He said "it's not surprising" that his brother responded courageously during the class.
RECENT SCHOOL SHOOTINGS IN THE US
"He's not really ever been the person to run away," Jeremy told the newspaper. "When the safety of the kids is at hand, it's not surprising to me that he was going to do what he had to do."
Seaman is a married father of two, according to his brother, who told The Star that "he was talking" on his way to the hospital.
"He talked to his wife," Jeremy said. "He told her he was OK."
Noblesville, about 20 miles northeast of Indianapolis, is home to about 50,000 people. The middle school has about 1,300 students from grades six through eight. The school's academic year was scheduled to end next Friday.
Fox News' Kathleen Joyce and The Associated Press contributed to this report.