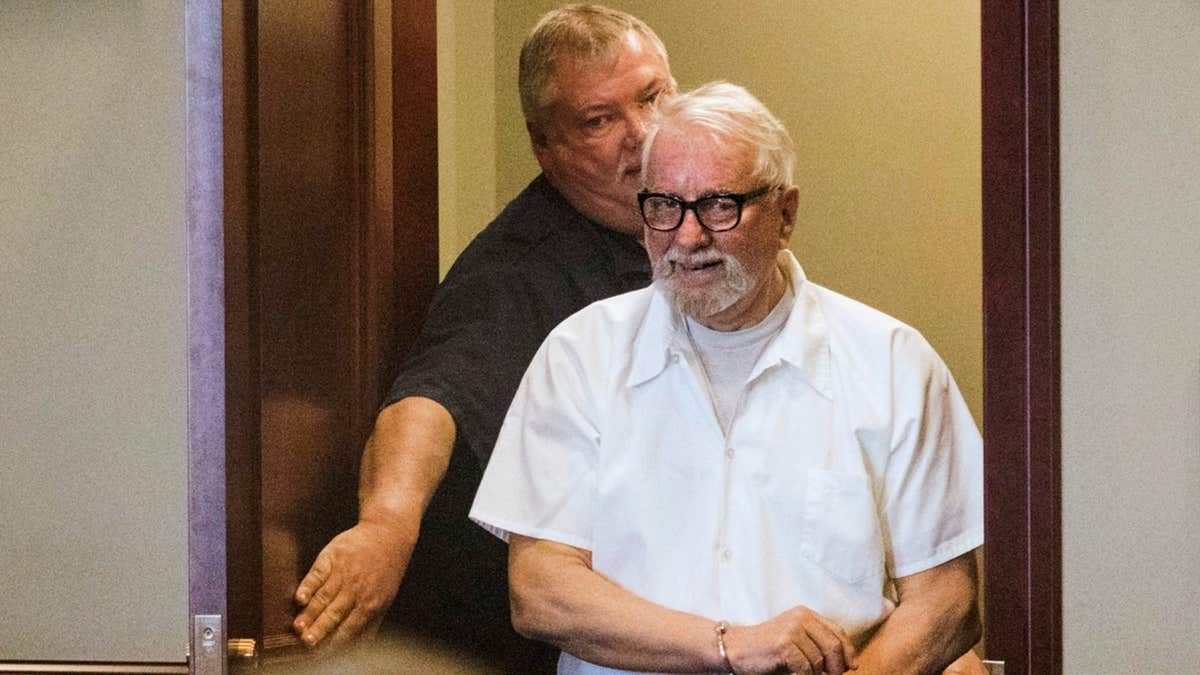 An Illinois prosecutor said Friday that new evidence proves that a man convicted in the 1957 abduction and murder of a 7-year-old girl couldn't have committed the crime.
DeKalb County State's Attorney Richard Schmack said his court-ordered, six-month review of the case included new evidence that reaffirmed an alibi for Jack McCullough, who was initially cleared in the case but was then charged in 2011.
Schmack said evidence convinced him that McCullough couldn't have been anywhere nearby when Maria Ridulph vanished on Dec. 3, 1957, while she was playing outside in the snow near her home in the community of Sycamore.
The girl was choked and stabbed to death in an alley, and her body was found months later, dumped in the woods more than 100 miles away and her murder remained unsolved for decades.
McCullough was a neighbor at the time of the murder. He had long ago been cleared by authorities before a renewed effort was launched to solve the case. He was found guilty in 2012 and was sentenced to life in prison.
Schmack said in a court filing that he joined in the defendant's motion to set aside the guilty verdict. A hearing is scheduled for Tuesday.
Some of the new evidence includes a recently subpoenaed phone records that proved McCullough made a collect call to his parents from a phone booth in the lobby of a Post Office in Rockford, about 35 miles from Sycamore. The call was placed minutes after the abduction was said to have taken place.
That had always been McCullough's professed alibi, though the precise location of the phone had previously come under doubt.
Testimony that the abduction had taken place earlier was also discredited, Schmack said, meaning there was no possibility McCullough could have committed the crime and driven to Rockford in time to place that call.
"I know there are people who will never believe that he is not responsible for the crime," said Schmack, whose own family has lived for 30 years in the small Sycamore neighborhood where the crime occurred. "But I cannot allow that to sway me from my sworn duty."
Schmack said the findings also cast doubt on the fairness of a photo array that authorities prepared for a witness who identified McCullough as the suspect a half-century later.
"We're very pleased," said McCullough's attorney, public defender Tom McCulloch.
Their appeal will be back in court on Tuesday, and McCulloch, now 76, is hopeful his client could be released soon.
"Given this filing, hopefully this comes to a rapid and favorable conclusion," he said.
Schmack's conclusions are based off FBI reports from 1957 and 1958 which were ruled inadmissible during the 2012 trial, according to the DeKalb Daily Chronicle. He also claims the state's timeline falls apart when compared to federal authorities' reports.
But Maria's sister remains convinced that McCullough is guilty.
"It's all very upsetting for us," said Patricia Quinn of El Paso, Illinois, her voice cracking with emotion. "We're just trusting in what the judge will do Tuesday at the hearing."
McCullough's conviction had put to rest some of the decades of anguish endured by Maria's family and friends.
At his sentencing in 2012, McCullough turned to them in the courtroom and proclaimed his innocence.
"I did not, did not, kill Maria Ridulph," said the silver-haired McCullough, who grew up in Sycamore and was 17 when Maria died. "It was a crime I did not, would not, could not have done."
The Associated Press contributed to this report.