Illinois man arrested in teen's 1985 murder, sexual assault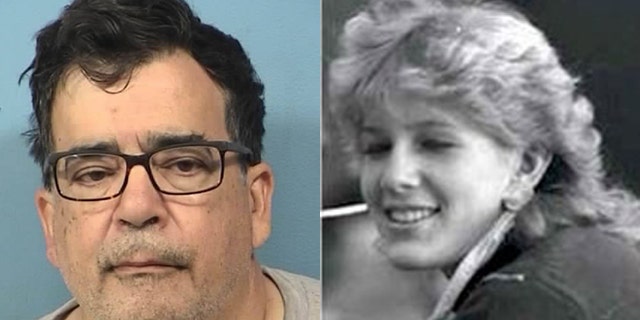 NEWYou can now listen to Fox News articles!
Illinois authorities announced the arrest Sunday of a 62-year-old man in the 1985 cold case murder of a 15-year-old girl who was attacked and killed on her way home from a store.
Michael Jones, of Champaign, Ill., was charged with two counts of murder and one count of aggravated sexual assault in the death of Kristina Wesselman in suburban Glen Ellyn, the DuPage County Sheriff's Office said.
The girl left home to go to the Jewel Food Store on July 21, 1985, and never returned. She was last seen on a path heading back toward her residence, the sheriff's office said. The next day her mother reported her missing. Hours later a sheriff's deputy found her body in a field near the path where she was last seen walking.
She had been stabbed numerous times and sexually assaulted, according to news reports.
"Since the date of the tragic murder, the case has remained open and active," Sheriff John Zaruba said in a press release. "Over the last 30 years the Sheriff's Cold Case Unit has worked hundreds of leads that have sent them across the nation and thousands of man hours have been spent to catch the killer in this horrendous crime."
The press release said that on September 10, investigators received new information in the 30-year-old cold case. Sheriff's cold case detectives investigated and located Jones.
A search warrant was conducted at Jones' home Friday and he was taken into custody, the Chicago Sun-Times reported.
Jones is being held in the DuPage County Jail and is scheduled to appear before a judge Monday at bond hearing.
On the 26th anniversary of the murder in 2011, police held a press conference and released a picture of a pearl ring that Kristina was wearing before she was killed.
Police said they believe the girl's killer took the ring, a family heirloom, as a memento and then had given it to another woman.
The ABC affiliate in Chicago reported at that time that a $10,000 reward was being offered in the case. The station also reported that police had what they believed was a small sample of the killer's DNA, although so far they had found no matches.
Kristina's mom attended the press conference and told reporters she goes through the same emotions every July 21, the station said.
"Today, it's trying to remember the good things, the funny things," Sandy Wessleman said. "It's a matter of time. Eventually somebody is going to say, 'I remember,' and have the courage to come forward and talk about it."
She said that day that she was keeping the promise she made at her daughter's funeral, that she would not let it go.
"It's the only thing I can do for Kristy," she said. "I watched her go out the door. I said, 'be careful, princess. I love you.' Those were the last words I ever said to my daughter."