Identity of 1991 murder victim 'Baby Hope' reportedly revealed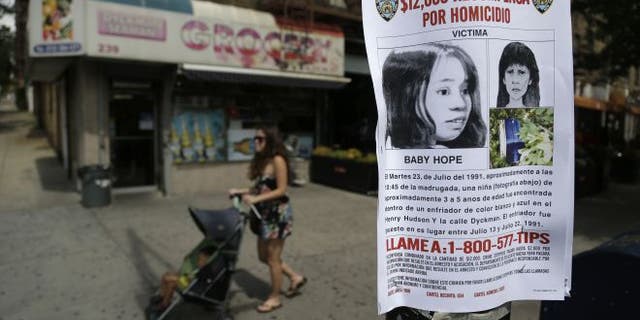 The identity of a little girl whose gruesome and senseless death haunted authorities for more two decades has finally been revealed.
The real name of Baby Hope, who was found murdered in 1991, was Angelica Ramirez, a law-enforcement source told The Post.
The dramatic discovery was made after police tracked down the girl's mother thanks to a renewed push to solve the case on the 22nd anniversary of the day her body was found.
"She was really an angel," one law-enforcement source said, referring to the tragic girl's name.
Police have obtained the birth certificate that identifies Angelica, although other information, such as the date and place of birth, were not revealed. She is believed to have been between the age of 3 and 5 when she died.
She was buried at St. Raymond's Cemetery in The Bronx in 1993 by the officers who investigated her death.
Her body was found stuffed in a filthy cooler near the Henry Hudson Parkway on a summer day in 1991.