Idaho town holds out hope for soldier's release in wake of Taliban proposal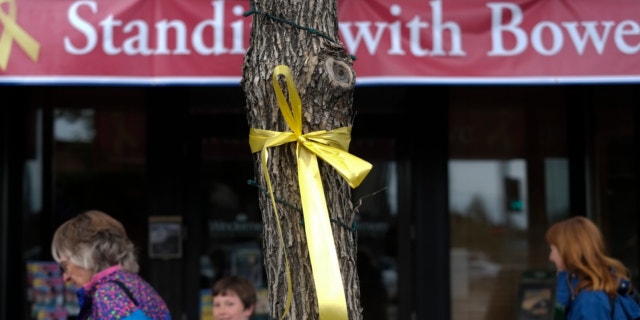 HAILEY, Idaho – The yellow ribbons, some tattered, some faded, can be seen long before state Highway 75 spills into Hailey, Idaho — home to America's only prisoner of war in its conflict with Afghanistan. They hang from roadside utility poles and in front of homes near the one where Bowe Bergdahl grew up. They adorn virtually every tree and light post on Main Street, where signs in shop windows issue pleas to "Bring Bowe Home."
The ribbons may be the most visible sign that the people of Hailey haven't forgotten the Alaska-based Army sergeant who, four years ago June 30, disappeared from his base in southeastern Afghanistan and was taken captive by the Taliban.
But there are other reminders, too: The Norway maple trees— one for each year Bergdahl has been held — planted in the local park. Even Bergdahl's father, once the town's clean-shaven UPS deliveryman, has grown a long beard, a personal monument to his son's plight, not likely to be shorn until he is freed.
The Afghan war, and the taking of this POW, may have long faded from the minds of most Americans. But for this community in the shadow of Idaho's Sawtooth Mountains, Bowe Bergdahl and his family's fight to free him are "omnipresent," said local Wesley Deklotz. "It's a whole community of people that are keeping him in their thoughts."
And now, for the first time in a long time, this place has reason to hope that the 27-year-old soldier assigned to the First Battalion, 501st Parachute Infantry Regiment, Fourth Brigade Combat Team, 25th Infantry Division, based at Joint Base Elmendorf-Richardson, could soon be home.
On Thursday, the Taliban proposed a deal in which they would free Bergdahl in exchange for five of their most senior operatives at Guantanamo Bay. The proposition came just days ahead of possible talks between a U.S. delegation and Taliban members in Qatar. And while the idea of a swap has been raised previously, the news electrified Bergdahl's parents, Bob and Jani, who see it as a far more serious sign that the Taliban is willing to let their son go.
"They are very hopeful and very positive that this is a huge step in the right direction," said friend Donna Thibedeau-Eddy, who was with the Bergdahls at their home outside of Hailey when they got the news. Only weeks ago the couple received the first, handwritten letter from their son since his capture, channeled through the International Committee of the Red Cross. That, along with this latest revelation, has boosted their optimism, Thibedeau-Eddy said.
Two hours east of Boise, Hailey sits just down the road from upscale Sun Valley, America's first destination ski resort. Celebrities including Arnold Schwarzenegger land their private jets at Hailey's airport. Actor Bruce Willis has a second home nearby. It isn't exactly your typical small town in rural America.
The 7,000 who live here are a mix of long-timers and newcomers drawn by the region's beauty and outdoor diversions: fly-fishing in the Big Wood River, mountain biking along the same high-desert trails where Bergdahl once rode his motorcycle.
Many here had never even met the young soldier who was homeschooled and joined the Army at 22. But that matters little, residents said. Perhaps in a big city, Bergdahl and his family's ordeal would have remained out of sight, out of mind. Not so in a close-knit place such as Hailey.
One reason the community has remained focused on Bergdahl's return is the steady, unwavering faith of his parents, said preschool teacher Betsy Castle as she supervised a group of children playing on the swings at Hailey's Hop Porter Park, near the place where Bergdahl's maple trees are planted.
"His parents have kept hope, and that's just rippled out into the community," said Castle, who didn't know Bergdahl. "There's also something about him being captured that has kept our minds focused on what's going on in Afghanistan.
"It's brought it home."
On Saturday, the park will serve as the venue for a rally and fun-run in Bergdahl's honor that organizers predict will attract as many as 1,000 motorcycle-riding POW-MIA activists. The event, called "Bring Bowe Back," had been planned before Thursday's news, a community affair meant to honor an absent, but not forgotten, member.
Before their son's capture, Bob and Jani Bergdahl sought out a relatively isolated existence for themselves and their son and daughter, Sky. Their modest home is off a dirt road about 5 miles outside of Hailey. Surrounded by sagebrush-covered hills, the place is now guarded by a closed gate, two barking dogs and a "No Trespassing" sign. They have repeatedly declined requests for media interviews.
But town residents said the couple are now two of the most-recognized members of the community — in large part because of the way they've dedicated themselves to their missing son. Bob Bergdahl learned some Pashto, the language spoken by his son's captors; he made a video, distributed via the Internet in May 2011, in a bid to appeal directly to the Taliban for his son's freedom.
Though Bob Bergdahl has retired from his UPS delivery job, he is still seen going about business in town. Mark Kashino, who owns an art gallery on Hailey's Main Street and has since befriended the family, said it's impossible to see the father and not think of his son.
Back in 2009, Kashino said, some people were admittedly skeptical of Bergdahl's chances of surviving his ordeal, but that's given way to a stubborn, if realistic, kind of optimism that has been buoyed over the years by the sporadic release of video footage showing Bergdahl alive. The military has never detailed circumstances of his disappearance or capture, and he is not classified as a deserter. He was initially listed as "duty status unknown" and is now considered "missing-captured."
"Any of the cynicism is superseded by the hope," said Kashino, whose front window sports a "Bring Bowe Back" sign. "As humans, we tend to hope for the best. On top of that, the reality is, the terrorists have found out that Bowe is worth a lot in trade." (Among the five at Guantanamo being considered for the swap is Mohammad Fazl, a former Taliban chief of army staff and the deputy minister of defense, U.S. and Afghan officials have said.)
Though the Bergdahls generally have shunned the spotlight, they have spoken to crowds on several occasions over the years, including a motorcycle rally last May on the National Mall in Washington, D.C., where Bob made a public promise to his son: "We will not leave you behind."
They are scheduled to speak again during Saturday's rally at Hop Porter Park, where Bob Bergdahl planned to ride his son's motorcycle to the park alongside a group of bikers. They will travel north on Highway 75, past all of those yellow ribbons still lining the road.
Stefanie O'Neill, a Hailey mother who is one of the organizers of the event, said the four maples planted to commemorate Bergdahl's years in captivity will get permanent yellow ribbons at Saturday's ceremony — the kind that never fade.
Still, she hopes the next event will be a homecoming celebration, because this Hailey resident has no intention of seeing yet another tree planted marking another year of Bergdahl's captivity.
"We've always told everybody, we don't want a fifth tree," O'Neill said. "We've left no room for a fifth tree."