ICE arrests of Iraqi Christians in US cause detainee families to feel betrayed
Members of the Iraqi Christian community in the U.S. are expressing feelings of betrayal by their adopted country after dozens of members were detained in a deportation sweep.
The U.S. Immigration and Customs Enforcement (ICE) conducted the mass arrests over the weekend with a majority of them occurring in the Detroit area. More arrests occurred earlier this week. Relatives of those detained say most of those detained were picked up for committing low-level and nonviolent offenses, and some had already served prison sentences for those offenses.
"Many of these people came here legally and maybe they fell into some trouble at one point in their lives," Nathan Kalasho, an Iraqi-American Christian activist in Michigan who has been helping with legal assistance for the families of the detained, told Fox News. "They have paid their debt to society. These are good people who live good lives, but they are being put at risk by being deported."
Mirvat, who declined to give her last name, says her 55-year-old uncle was arrested this past weekend as he went to his biannual check-in with immigration services for a nonviolent felony conviction from decades ago. Despite completing his prison sentence for the conviction, he has been told that he will be sent back to Iraq next Friday.
"He went in and they immediately arrested him," Mirvat, who is from Warren, Mich., said to Fox News, "It's so unsafe there [Iraq]. They are literally throwing him into the fire."
Mirvat said her uncle immigrated to the U.S. when he was only 5 years old with his family on a legal visa. He has no family in Iraq and the fact that he is from the U.S. and a Christian means he will certainly be a target once he arrives in Baghdad.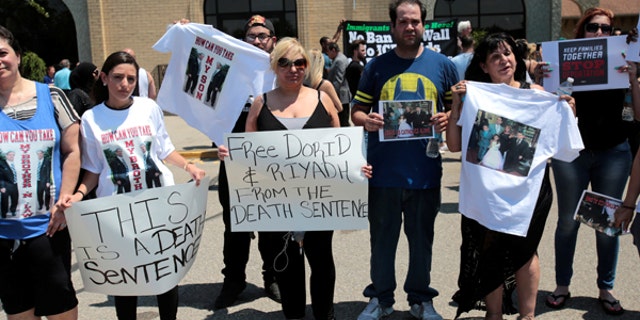 "He's devastated," Mirvat said. "He doesn't know what is going on or what to do. All the officers are telling him is that he should call his family and tell them to pack him a bag because he's being sent to Iraq in a week."
Mirvat has a special connection to her uncle. She has been battling blood cancer, and her uncle provided her with vital bone marrow transplants on two separate occasions. Should she require an additional transplant, no one else in her family is a compatible match.
"I'm devastated," she said. "He's the one who has literally saved my life. He's saved it twice."
ICE on Monday declined to say how many were taken into custody, but some advocates say at least 40 people were arrested near or at homes, mostly on Sunday, while other estimates are that more than 100 Christians were picked up.
Kalasho says that others were arrested at their churches, including one man in suburban Michigan who was nabbed by ICE agents as he arrived at church for his daughter's first communion service.
The Detroit area has one of the largest communities of Iraqi Christians, known as Chaldeans, in the U.S. with an estimated 120,000 in and around the city.
The sweep follows a recent agreement by Iraq's government to allow the return of immigrants who have been ordered out of the United States. Details of this agreement first surfaced during litigation over the initial version of President Trump's travel ban.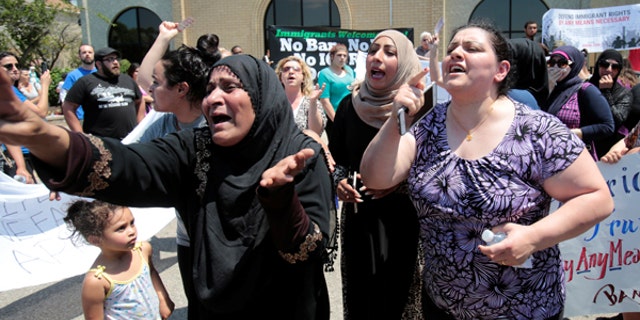 In subsequent versions, Iraq was dropped from the list of countries whose citizens were banned. The executive order remains on hold.
The arrests come amid broader and more aggressive policies on immigration by the Trump administration. Immigrants who already have deportation orders and were allowed to stay in the country under the prior administration have now become a target under Trump, with some getting arrested during scheduled check-ins, as was Mirvat's uncle.
ICE said in a statement released Monday that all of those arrested had criminal convictions, including some for murder, rape, assault, burglary, weapons violations and drug trafficking, and were ordered deported by an immigration judge after "full and fair" proceedings.
Immigration officials said the judge determined they were "ineligible for any form of relief under U.S. law," but declined to discuss the appeals process or other legal options.
Kalasho and others have set up a legal aid center at the Madison Heights, Mich., charter school he operates to help detainee families get legal assistance. At least 115 families are being paired up with attorneys, he said.
"It's more of a triage than a legal center at this point," Kalasho said to Fox News. "It's hypocritical to send these people to Baghdad. It just doesn't make sense. Just because people may have committed a crime doesn't mean that they are life-long criminals. They've established honest lives and many of them are taxpayers who are asking the courts for a fair process."
The Associated Press contributed reporting to this story.