Hydraulic fluid reportedly used to grease Philadelphia poles ahead of Super Bowl LII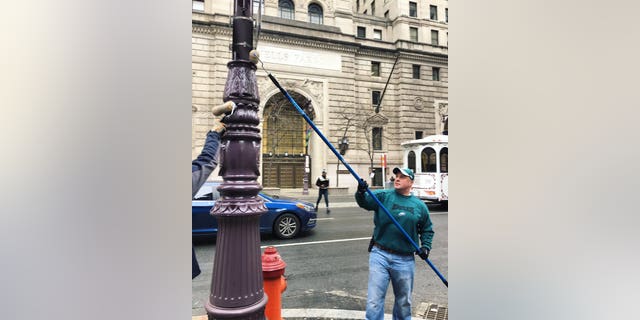 The Philadelphia Eagles will face off against the New England Patriots during Super Bowl LII in Minneapolis -- but Philadelphia is preparing for the big game, too.
Hydraulic fluid is reportedly being used to grease poles in the City of Brotherly Love. City officials wouldn't confirm what is making the poles slick, according to Fox 29.
"As predicted, no Crisco on the poles. Instead, police are using hydraulic fluid," Philadelphia Inquirer reporter Caitlin McCabe tweeted.
PHILADELPHIA CITY CREWS GREASE POLES BEFORE EAGLES, VIKINGS FACE OFF IN NFC CHAMPIONSHIP
"By the time I found these guys around 1 p.m., they had already greased around 100 street poles since 9 a.m., starting at Broad and Lombard Streets, making their way up toward City Hall," she said in another tweet.
It's not the first time poles have been greased: shortening was used in Philadelphia for the Eagles-Vikings NFC championship game last month, Fox 29 explained.