Hurricane Maria leaves Puerto Rico powerless, at least 15 dead on Dominica
Hurricane Maria regained major hurricane status early Thursday, strengthening to a Category 3 storm, as it left a devastated -- and completely powerless -- Puerto Rico in its wake and at least 15 dead people in Dominica.
The prime minister of Dominica, Roosevelt Skerrit, said at least 15 people died after the storm hit the island and 20 people were missing. Maria is also deemed responsible two deaths on Guadeloupe and one in Puerto Rico.
Skerrit cried as he spoke to a reporter with ABS TV/Radio on the nearby island of Antigua, the Associated Press reported.
He said it was a miracle the death toll was not in the hundreds, adding Dominica "is going to need all the help the world has to offer."
The strongest hurricane to hit Puerto Rico in more than 80 years left the entire island without electricity, making it difficult to assess just how much damage was caused by Maria's unrelenting onslaught.
The storm, with winds of 120 mph and traveling northwest at 9 mph, is now passing the northeastern Dominican Republic and headed for the Turks and Caicos. It was centered about 135 miles southeast of Grand Turk Island as of Thursday morning.
"Once we're able to go outside, we're going to find our island destroyed," said Abner Gomez, Puerto Rico's emergency management director. "The information we have received is not encouraging. It's a system that has destroyed everything in its path."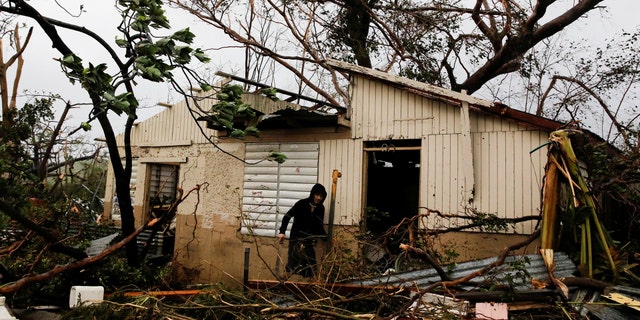 Uprooted trees and widespread flooding blocked many highways and streets across the island, creating a maze that forced drivers to go against traffic and past police cars that used loudspeakers to warn people they must respect an overnight curfew imposed by the governor to ensure everyone's safety.
Maria hit Puerto Rico as a Category 4 storm, weakened to a Category 2 as it tore through the island and then regained strength as it came close to the Dominican Republic and the Turks and Caicos Islands.
"The hit on Puerto Rico has been devastating with over 2 feet of rain, incredible storm surge and the whole island without power," Fox News Senior Meteorologist Janice Dean said Thursday. "It is the worst disaster Puerto Rico has experienced in a generation. We have yet to see the devastation they are waking up to."
"It is the worst disaster Puerto Rico has experienced in a generation. We have yet to see the devastation they are waking up to."
The hurricane was still dumping rain early Thursday in Puerto Rico, where crumbled red roof tiles lay scattered across many roads, and curious residents ducked under dozens of black power lines still swaying in heavy winds.
More than 11,000 people — and more than 580 pets — were in shelters, authorities said.
In the island's capital of San Juan, eucalyptus trees fell nearly every other block over a main road dotted with popular bars, restaurants, and coffee shops, some of which were damaged.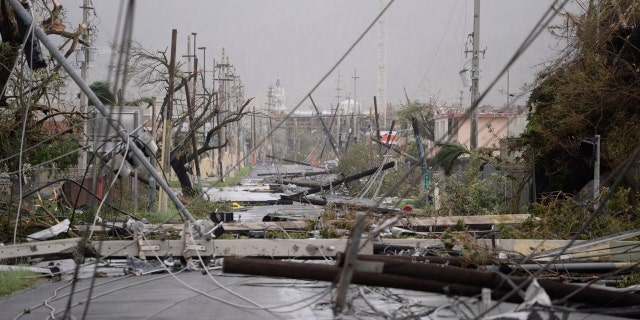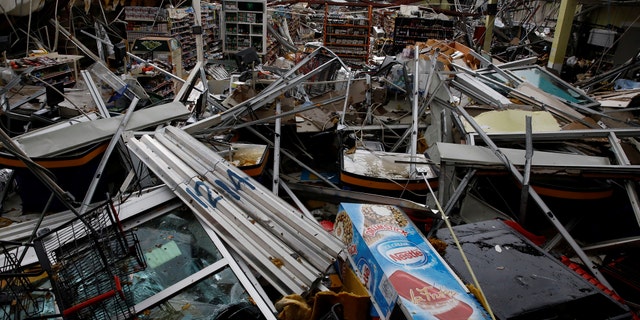 Outside a nearby apartment building, 40-year-old tourism company operator Adrian Pacheco told the AP how he spent eight hours in a stairwell huddled with 100 other residents when the hurricane ripped the storm shutters off his building and decimated three balconies.
"I think people didn't expect the storm to reach the point that it did," he said. "Since Irma never really happened, they thought Maria would be the same."
Officials are unable to say when electricity would return on the island, which was already crumbling amid lack of maintenance and a dwindling staff even before the Hurricanes Irma and Maria knocked out power. Many now believe it will take weeks, if not months, to restore power.
President Donald Trump approved a disaster declaration for Puerto Rico early Thursday after Maria slammed into the U.S. territory. The declaration makes federal funding available to Puerto Ricans affected by the storm.
On the northern part of the island, the mayor of one coastal town said he received reports of one area losing 80 percent of the homes in the area.
Catano Mayor Felix Delgado said the small fishing community near the San Juan Bay was inundated with more than 4 feet of storm surge from Maria.
Delgado told ElNuevoDía.com "this generation is going to play to build the new Catano."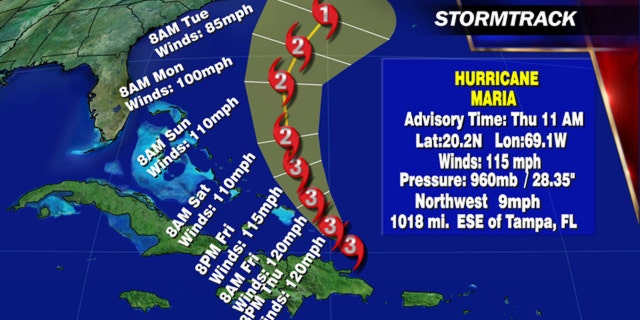 As of now, Maria poses no immediate threat to the U.S. mainland. The long-range forecast showed the storm out in the Atlantic Ocean hundreds of miles off the Georgia-South Carolina coast by Monday morning.
"Residents across the Mid-Atlantic and Northeast coast will still need to monitor Maria's path, although it looks likely the storm will stay offshore," Dean said Thursday.
The Associated Press contributed to this report.