Hurricane Maria destroys hundreds of homes, knocks out power across Puerto Rico
Torrential rains continued in Puerto Rico early Thursday as Hurricane Maria moved away from the island, after destroying hundreds of homes and knocking out power for most of its 3.4 million residents.
The storm was approaching the eastern portion of the Dominican Republic, on its way to Turks and Caicos, the National Hurricane Center reported.
Maria's core was about 70 miles north of Punta Cana, Dominican Republic, with wind gusts of 110 miles per hour, the hurricane center wrote in its 5 a.m. ET Thursday advisory.
Maria weakened to a Category 2 storm Wednesday evening, but regained major hurricane status by Thursday.
The massive power outage came after Hurricane Irma tore through the island weeks ago -- leaving more than 1 million people without electricity. As of Maria's arrival, more than 70,000 residents still had no electricity.
Felix Delgado, mayor of the northern coastal town of Catano, said 80 percent of the 454 homes in his neighborhood were destroyed.
Delgado said it'll take "months and months and months and months" for Puerto Rico to recover from the devastating storm.
Puerto Rico Gov. Ricardo Rossello urged people to have faith: "We are stronger than any hurricane. Together, we will rebuild." He later asked President Donald Trump to declare the island a disaster zone, a step that would open the way to federal aid.
More than 11,000 people were in shelters, Rossello said.
In San Juan, Maria's fierce winds toppled trees and ripped away outside materials of high-rise buildings in the city, while people calling local radio stations reported that doors were flying off hinges and a water tank flew away in the island's southern region.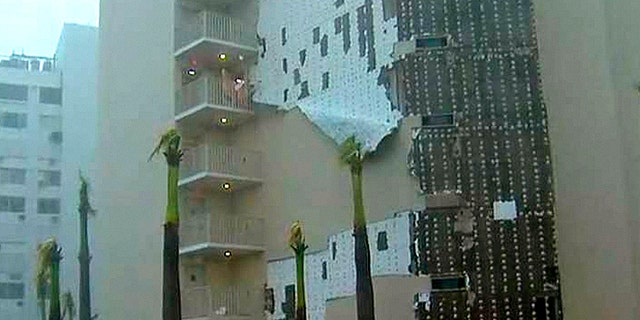 Widespread flooding was reported across the island, with dozens of cars half-submerged in some neighborhoods and many streets turned into rivers.
Those who sought shelter at a coliseum in San Juan were moved to the building's second and third floors, reported radio station WKAQ 580 AM.
The storm also spawned torrential rainfall across the island, leading to flash flood emergency warnings.
Videos posted to Twitter showed floodwaters rushing through the streets of Guayama on the island's southern coast and other locations.
Many feared extended power outages on the island would further sink businesses struggling amid a recession that has lasted more than a decade.
"This is going to be a disaster," Jean Robert Auguste, who owns two French restaurants and sought shelter at a San Juan hotel, told the Associated Press. "We haven't made any money this month."
As Maria approached, President Donald Trump offered his support via Twitter: "Puerto Rico being hit hard by new monster Hurricane. Be careful, our hearts are with you- will be there to help!"
Maria ties for the eighth strongest storm in Atlantic history, when measured by wind speed. Coming in second is this year's Irma, which had 185 mph winds and killed 38 people in the Caribbean and another 36 in the U.S. earlier this month.
The National Weather Service office in San Juan, Puerto Rico, warned of "catastrophic damage" from Maria's winds, as well as "life-threatening rainfall flooding having possible devastating impacts" in a hurricane local statement issued Tuesday evening.
"Locations may be uninhabitable for weeks or months," according to the NWS.
Puerto Rico had long been spared from a direct hit by hurricanes that tend to veer north or south of the island. The last Category 4 hurricane landfall in Puerto Rico occurred in 1932, and the strongest storm to ever hit the island was San Felipe in 1928 with winds of 160 mph.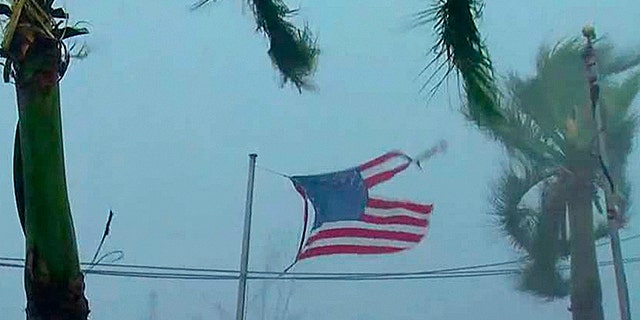 A report from a U.S. Air Force Reserve Hurricane Hunter mission late Tuesday confirmed Maria had strengthened as it neared the U.S. Virgin Islands as maximum sustained winds increased to 175 mph and central pressure dropped to 909 mb, a lower pressure than Irma had at any time.
"This is the lowest pressure for any Atlantic hurricane since Hurricane Dean's 905-mb minimum central pressure in August 2007," Dean said. "It is also the 10th-most-intense hurricane in Atlantic Basin history, based on minimum central pressure."
The storm's center passed near St. Croix overnight Tuesday, prompting U.S. Virgin Islands Gov. Kenneth Mapp to insist that people remain alert. St. Croix was largely spared the widespread damage caused by Hurricane Irma on the chain's St. Thomas and St. John islands just two weeks ago. But this time, the island would experience five hours of hurricane force winds, Mapp said.
"For folks in their homes, I really recommend that you not be in any kind of sleepwear," he said during a brief news conference. "Make sure you have your shoes on. Make sure you have a jacket around. Something for your head in case your roof should breach. ... I don't really recommend you be sleeping from 11 o'clock to 4 (a.m.). ... Be aware of what's going on around you."
Maria causes 'widespread devastation' in Caribbean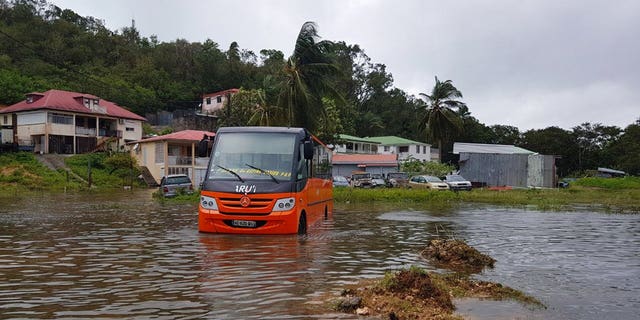 Before slamming Puerto Rico, Maria caused widespread destruction across several islands in the Caribbean, leaving at least 9 dead.
The storm killed one person in the French Caribbean island of Guadeloupe when a tree fell on them Tuesday, and two people aboard a boat were reported missing off La Desirade island, just east of Guadeloupe, officials said.
About 40 percent of the island — 80,000 homes — were without power and flooding was reported in several communities.
The storm also blew over the tiny eastern Caribbean island of Dominica late Monday, where Prime Minister Roosevelt Skerrit sent out a series of dramatic posts on his Facebook page.
"Initial reports are of widespread devastation. So far we have lost all what money can buy and replace," he wrote.
He added that that his own roof had blown away.
"The winds are merciless! We shall survive by the grace of God," Skerrit wrote before communications went down.
An adviser to Skerrit said as of Wednesday morning there have been seven confirmed deaths in the Caribbean country from Maria.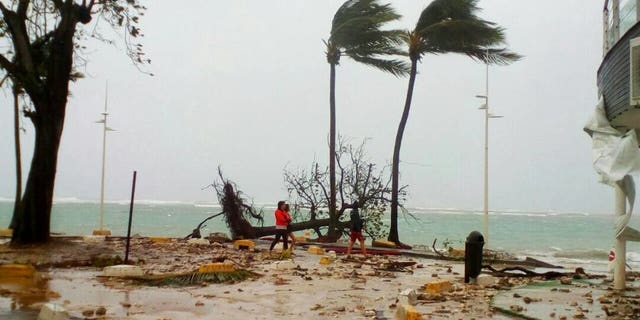 Hartley Henry didn't give details about how the deaths occurred, and said the country is "in a daze" with no electricity or power and little to no communications.
Henry added in a statement that there has been a "tremendous loss of housing and public buildings" in the mountainous island but the full extent of the damage isn't known.
Maria's path after Puerto Rico still to be watched
After crossing Puerto Rico, Maria is going to pass near the Dominican Republic on Thursday, then the Turks and Caicos Friday, according to Fox News Senior Meteorologist Janice Dean.
Hurricane watches been issued for the Turks and Caicos and the southeastern Bahamas, which are still recovering from Irma.
The eastern Dominican Republic is forecast to pick up 4 to 8 inches of rain, with isolated 12-inch amounts, and may also see hurricane-force winds develop as soon as Wednesday night.
"There is still some uncertainty, as any slight jog of the eyewall north could keep the most intense winds off the coast of the Dominican Republic," Dean said.
As far as any potential impacts from Maria to the East Coast of the U.S, Dean said "it remains too early to determine."
Fox News' Janice Dean and The Associated Press contributed to this report.