Hurricane Florence upgraded to Category 4 storm as Gordon moves inland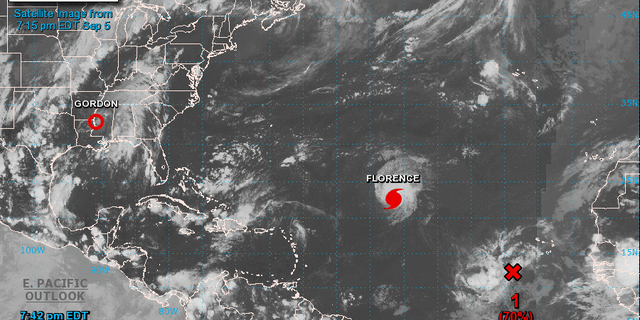 Florence, the first major storm of this year's Atlantic hurricane season, was upgraded to a Category 4 storm Wednesday as forecasters warned it could cause "life-threatening" surf and rip current conditions in Bermuda later this week.
According to the National Hurricane Center, Florence's maximum sustained winds are estimated to be 130 miles per hour. The storm is centered about 1,295 miles east-southeast of Bermuda and is moving northwest at 13 mph.
Forecasters have said they expect Florence to weaken somewhat over the next couple of days, but the storm is predicted to remain a powerful hurricane through early next week.
The National Hurricane Center said that the swells generated by Florence would begin to affect Bermuda on Friday. There are no watches or warnings currently in effect for the U.S.
While Florence gathered pace in the Atlantic, the remains of Tropical Depression Gordon spread bands of heavy rain across parts of the South as it swirled over Mississippi.
Rain spun around the storm's center in the Jackson, Mississippi, area Wednesday afternoon. And bands swept up from the Gulf, dropping more rain on northwest Florida — where 10.48 inches already had fallen at Florida's Pensacola International Airport by Wednesday morning — through the center of Alabama and into Tennessee.
New Orleans, which had braced for severe flooding, was unscathed. And residents along the Mississippi Gulf Coast, which expected a serious hit, were largely spared. A dozen casinos that shut down were allowed to reopen at noon Wednesday. Boaters and fishermen returned to marinas after having fled inland a day before.
Gordon never reached hurricane strength by the time it came ashore Tuesday night just west of the Mississippi-Alabama line. Its maximum sustained winds reached 70 mph. It knocked out power to at least 27,000 utility customers in Florida, Alabama and Mississippi. By Wednesday afternoon the numbers were down to about 5,800 in Alabama, 3,000 in Mississippi and a little more than 2,000 in Florida.
What's left of Gordon is forecast to head northeast into Arkansas, which was forecast to get heavy rain from the system by Wednesday night. By Saturday, what's left of the storm was forecast to hook to the north, then northeast on a path toward the Great Lakes. National Weather Service offices in Missouri and Oklahoma said Gordon's remnants could add to the rain caused by a frontal boundary already causing heavy rains in parts of the Midwest. Flash flood watches stretched from the Florida panhandle, through parts of southwest Alabama, Mississippi, Arkansas, Oklahoma, Kansas, Iowa and Illinois.
The Associated Press contributed to this report.