Hunters catch record-size 697-pound alligator in Mississippi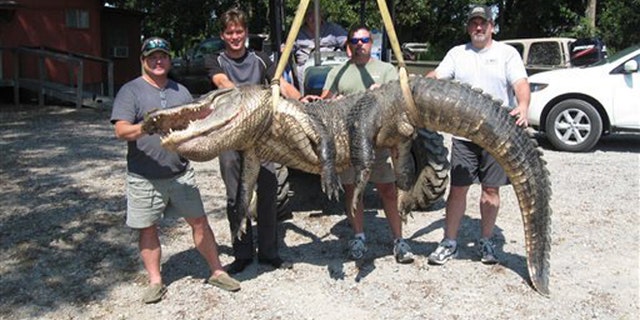 NEWYou can now listen to Fox News articles!
FITLER, Miss. – The hunters knew there was a huge 'gator in wetlands where they had hunting permits. He gave them a scare before they killed him, but they got a state record — 697.5 pounds.
It took six days just to sight the gator on private land where Tom Grant of Cleveland had spotted it while fishing and where the hunters had permits to catch several alligators.
"I caught one two years ago that was 12 feet, 9 inches long and I knew this one was as big or bigger," Grant told The Clarion-Ledger.
They spotted it late Sept. 21. The big guy — females don't get that big — spotted them too. It went under water.
"I threw in his general area and hooked him on a blind cast," said Grant.
Grant, Kenny Winter and Jim Reed, both of Greenville, and Michael Robbers of Palos Verdes, Calif., got more hooks in the gator as it headed for deeper water.
It stayed at the bottom for a while. When it surfaced, it came up under the boat.
"Depending on who you talk to, he either rocked us or almost sank us," said Reed.
Winter said, "He hit the boat so hard we started taking on water on the opposite side. We started stomping on the bottom of the boat to make him change his plans."
From first hook to final gunshot took two hours, with another 2 1/2 to wrestle the beast to shore and lash its head to the boat trailer. By then it was Sept. 22.
"We tried to winch him up on the trailer. It broke my winch," Winter said Sunday.
They drove slowly the mile or two to camp, dragging the alligator.
The head of Mississippi's alligator program drove from Jackson with a portable scale later Sept. 22. The gator broke the old state record by 7 pounds.
The 13-foot 1.5-inch gator is far shy of the 19-foot-2 that Tabasco Sauce president and naturalist E.A. McIlhenny said he measured against his shotgun's 30-inch barrel in 1890. That's listed as Louisiana's and the species record.