Hundreds of Texas educators take free concealed handgun class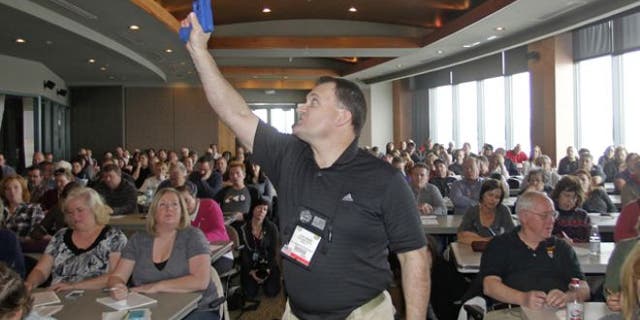 A concealed handgun training class envisioned by former Navy SEAL Chris Kyle before his death drew hundreds of educators to a Texas school auditorium Saturday.
More than 700 teachers and administrators attended the all-day session on gun laws and safety at Kennedale High School in Dallas-Fort Worth area, The Dallas Morning News reported.
The free class was organized by Dalworthington Gardens Police Chief Bill and Kyle, who was fatally shot at a North Texas shooting range in February.
"It went from 20 to 30 teachers to the more than 700 we have here today. It just exploded with Chris' involvement," Dalworthington Gardens Police Chief Bill Waybourn told the paper.
Teachers from across the state and at least one representative from each school district in North Texas attended the class, which was organized in response to the school shooting in Newtown, Conn., according to the report.
Participants who complete the required live-ammunition firing training will be eligible for concealed-handgun licenses, the Fort Worth Star Telegram reported.
Last week, the Texas Senate Education Committee approved a plan to train armed teachers for gunfights in classrooms or at campus sporting events or board meetings.
Texas already allows teachers and other school personnel who have previously been certified to carry concealed weapons to do so in classrooms with the permission of their local school districts.
The bill's sponsor, Houston Republican Sen. Dan Patrick, said only three school boards statewide allow that, but others have authorization pending.
The proposal calls for 16 hours of training to instruct teachers how to first conceal children during an attack, and then return fire. It would apply to charter schools as well as public schools that don't already employ armed guards.
Several proposals to extend the reach of guns in schools are moving through the Legislature, which opened its biannual session a month after 20 schoolchildren were killed in a mass shooting in Connecticut.
The National Rifle Association has called for an armed guard in every school in America.
Leah Smith, a first-grade teacher who attended Saturday's training class, told the Fort Worth Star Telegram she supports arming teachers who receive proper training.
"More protection can't hurt," she told the paper. "Maybe it would save lives."
Lolita Looney, an elementary school principal, said the class was an opportunity for educators to learn how to protect themselves outside of the classroom.
"We never know who we'll run into at the grocery store or just out and about. We should be prepared," Looney told the paper.
Click here for more from Dallas Morning News.
Click here for more from the Fort Worth Star Telegram.
Click here for more from MyFoxDFW.com.
The Associated Press contributed to this report.