Hundreds of students march back to Ohio school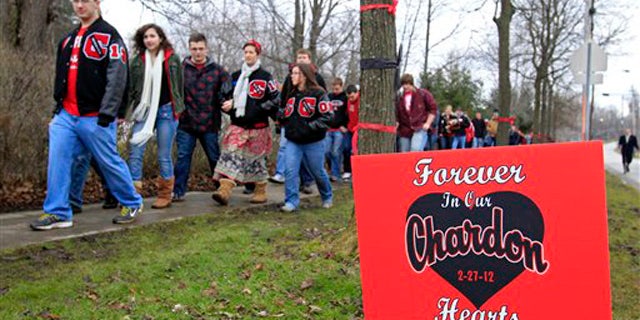 CHARDON, Ohio – The deadline to file charges in a fatal Ohio high school shooting loomed as students still reeling from the slaying of three teenagers marched by the hundreds to their reopened school Thursday.
The students, many with their parents and wearing the school colors of red and black, started the day gathered around a courthouse square gazebo, quietly singing the alma mater.
Students hugged each other and parents as they left the gazebo, which was decorated with a growing memorial of candles, flowers and handwritten messages of support.
"I'm just scared for everybody and I don't know how everybody is going to act going back into school," said Theodore Rosch, 16, a freshman, as his father, Will Rosch, wrapped his left arm around his son's shoulders.
A judge said prosecutors had until Thursday to file charges against the shooting suspect, T.J. Lane, a thin, quiet 17-year-old accused of opening fire on a group of students sitting at a cafeteria table at 1,100-student Chardon High School on Monday. Three students died, and two were seriously wounded.
A prosecutor has said Lane, who is in custody, will probably be charged with three counts of aggravated murder and other offenses. Prosecutors are expected to ask that he be tried as an adult.
T.J. Lane had been in trouble before, accused of choking and punching another male in an assault case from 2009, according to court records released Wednesday by Judge Timothy Grendell. Lane entered the juvenile court equivalent of a guilty plea to a reduced misdemeanor charge of disorderly conduct and was given a suspended sentence of up to 30 days in jail.
Grendell wouldn't say if there are other files on Lane that might be covered by a law allowing certain records to be withheld.
Longtime neighbors and friends on Wednesday expressed disbelief at how Lane could be the suspect, describing a boy from a broken family who had struggled in school but appeared to improve once he began staying with his grandparents and attending an alternative school with several dozen students.
"He went from flunking out from what I understand to almost a straight A student with honors and he was going to graduate a year early," said Russ Miller, who has known Lane for more than a decade and lives near Jack Nolan, Lane's grandfather. Nolan has familial custody of the teenager.
Miller, a Vietnam veteran, said he had talked to Lane about joining the military, but the boy hadn't made plans.
"He was a typical 17-year-old," Miller said. "He didn't really know what he wanted to do in his life." He said Lane didn't smoke, drink or do drugs and is "kind of a health nut."
Another neighbor said Lane played outside often with his sister, building snow hills and skateboarding.
Steve Sawczak, a pastor who has worked with troubled children and lives next to the Nolans, said he never saw hints of trouble from Lane. He said the grandparents gave Lane a healthy place to live and have been left shocked and devastated.
Lane's father, Thomas Lane, had served time in prison on charges of disrupting public service and felonious assault, according to state prison records. Neighbors said he visited his son often, sometimes taking him and his sister camping or to the school to catch the bus.
Prosecutor David Joyce has described the younger Lane as "someone who's not well" and said the teen didn't know the victims but chose them randomly. Killed were Demetrius Hewlin, 16, Russell King Jr., 17, and Daniel Parmertor, 16.
Hewlin's parents told ABC News they have forgiven Lane for shooting their son, noting that Demetrius was often late for school, but not late enough on Monday.
Demetrius' mother Phyllis Ferguson said Wednesday she doesn't know what her son's last moments were like, but she can't worry about that.
"You have to accept things and move on," she said.
When asked what she would say to the suspected shooter, Ferguson said, "I would tell him I forgive him because, a lot of times, they don't know what they're doing. That's all I'd say."
Hewlin's parents said they are donating his organs. Their son would have turned 17 next week.
An 18-year-old girl who was hurt in the shootings was released from the hospital Tuesday and was home with relatives, who declined to comment. The second injured teen remained in serious condition Wednesday at a suburban Cleveland hospital.
President Barack Obama on Wednesday offered condolences to Chardon High School principal Andy Fetchik, telling him in a phone call he was heartbroken by the news and asking how the principal and school community were holding up, The (Cleveland) Plain Dealer reported.
A law enforcement official familiar with the investigation said the .22-caliber gun used in the shooting was bought legally in August 2010 from a gun shop in Mentor, Ohio. The official, who spoke to The Associated Press on the condition of anonymity because of the ongoing investigation, said Lane told authorities he stole a gun from his uncle.
But a former county sheriff who has long lived near Lane's other grandparents indicated that the shooting appears to have involved a gun that disappeared from a family barn.
A pistol fitting the description of the one used in the shootings was noticed missing after the shooting, said Carl Henderson, 74, a neighbor of grandparents Thomas and Michelle Lane. He said he has spoken to the grandfather and that the man believes the gun is the same.
Both sides in the legal case are under a gag order imposed by the judge at the prosecutor's request. Grendell earlier barred media outlets from taking photos of the suspect's face but reversed the decision Wednesday and said Lane, who appeared at his hearing wearing a bullet proof vest, may be photographed at a pending a hearing next Tuesday. Social media sites have been full of angry and hate-filled remarks directed at Lane.
The AP transmitted photos and video of Lane that were shot before Tuesday's order. The AP and at least one other media outlet, The Plain Dealer of Cleveland, challenged the judge's order Wednesday.