Hundreds attend funeral of 'abandoned' Vietnam veteran, Purple Heart recipient
A military hero with no known family was honored Saturday by several hundred strangers at a church in Indianapolis in a show of support.
Glenn Shelton, 68, died Nov. 26 and earned a Purple Heart while serving with the Marines during the Vietnam War, according to his obituary.
Shelton had no known family and is formerly of Louisville, Ky., according to Indiana Funeral Care. It's unknown how he got to Indiana.
Indiana Funeral Care organized Saturday's funeral service by spreading the word on social media, which grew so popular the ceremony had to be moved to a bigger venue.
"We don't know anything about him, so it's just rewarding that they can still find time to come out and pay their respects," Sara Thompson, Indiana Funeral Care General Manager, told FOX59.
"Glenn might have been abandoned in life, but he will not be abandoned in death," she added.
Those who attended the ceremony event also received a dog tag with Shelton's name engraved.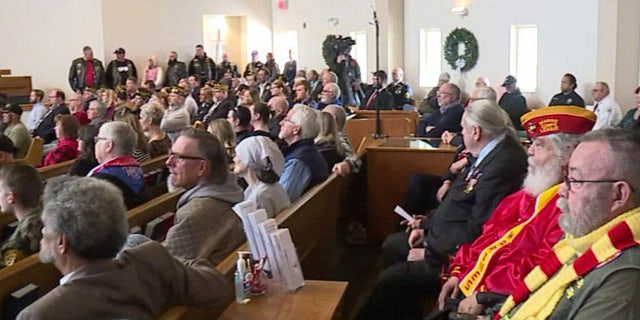 "It's just absolutely wonderful," Russell Pryor, commander for the VFW District 11, told FOX59. "It shows me that no matter when you served, who you served with or where you served, we're here to support you."
Shelton was later buried at Indiana Veterans Memorial Cemetery in Madison, located about 48 miles northeast of Louisville, according to Indiana Funeral Care.
Besides the hundreds who attended the ceremony Saturday to pay their respects, Shelton's online obituary also contained comments from people thanking him for his service and paying their respects.
"Thank you for your service Mr. Shelton," Kathy Garza-Behr wrote. "You won't be alone anymore, everyone in heaven is family. Rest easy."