Midterm election: Ballot tabulation machines in North Carolina stymied by humidity, state officials say
A storm system moving across the East Coast that's dumping rain in parts of the Southeast is also wreaking havoc with vote-counting machines in North Carolina -- just as residents are turning out for the midterm elections.
The North Carolina Board of Elections and Ethics Enforcement said in a news release ballots in some precincts in Wake County and other areas cannot be fed through tabulators at the moment due to humidity levels associated with the weather.
"Initial reports from county elections offices indicate this issue is caused by high humidity levels," the agency said. "When ballots cannot be read by tabulators, they are stored securely in "emergency bins" and will be tabulated as soon as possible.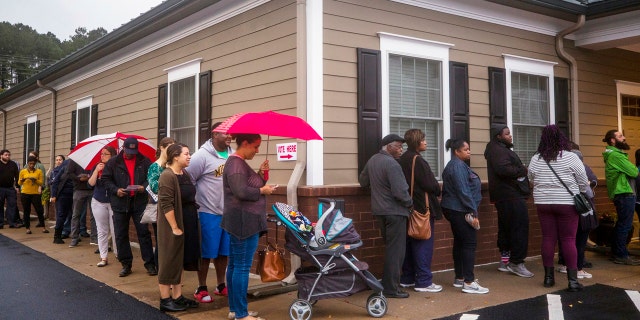 State officials stressed "all ballots will be counted" and assured voters procedures were in place for just such an event.
ELECTION DAY FORECAST: TENNESSEE POWER OUTAGES AND VICIOUS WEATHER, STORMS ACROSS SOUTHEAST AND INTO NORTHEAST
County elections officials are being advised by the state to work with precinct officials to keep voting areas "as cool and dry as possible" by using air conditioning, in addition to keeping doors closed when possible.
MIDTERM ELECTION VOTERS IN CONTENTIOUS GEORGIA COUNTY FACING DIFFICULTIES
"After the election, the State Board conducts a series of post-election audits. One audit compares the number of authorization-to-vote forms signed by voters with the number of ballots tabulated at each location," the agency said. "This audit ensures that the number of voters who present to vote matches the number of ballots counted."
A cold front pushing east is bringing rain and the threat of some severe storms from Georgia into the Northeast. Rain was falling across the western part of North Carolina on Tuesday morning and is expected to push east throughout the day.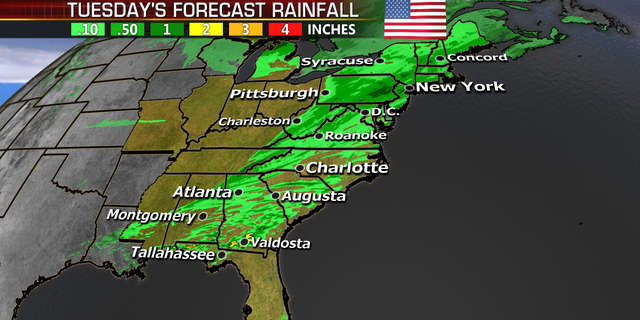 "This front will clear much of the Northeast and Mid-Atlantic by the early evening, but the East Coast will be unsettled for much of Tuesday," Fox News Senior Meteorologist Janice Dean said Tuesday.