Florida's Panama City, torn apart by Hurricane Michael, now managed by 2-star Army general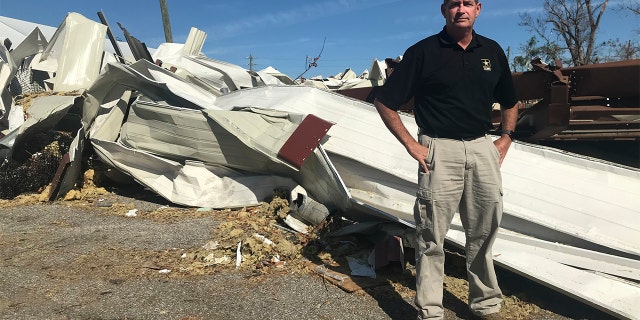 Maj. Gen. Mark McQueen had no sooner retired from the Army — after serving in Iraq and Afghanistan — and started his job as city manager in Florida's Panama City when it was slammed by a category 4 hurricane.
Hurricane Michael became the most devastating storm to hit Florida in decades. Almost all of Panama City's water, sewer, electric and cell services were wiped out.
Despite McQueen having no municipal experience and having been on the job only two weeks, city leaders said the two-star general is exactly the man they need for the long recovery ahead.
"I believe the Lord sent him," Panama City Commissioner Billy Rader said. "God knew this was going to happen before we did."
McQueen, 58, was a rare choice when commissioners picked him out of a candidate pool of 80 people, and not just because his experience was from the military.
When McQueen accepted the job six months ago, he asked the commission for a grace period to wrap up his military service and end his a civilian job as a church's business administrator. There was another pressing matter, too.
"There was a gentleman who needed a kidney," he said casually.
That's right. In the last four months, McQueen has retired from the military, started a new job, helped coordinate one of the largest hurricane responses since Katrina, and donated a kidney — to a stranger.
In August, he donated his left kidney to a man at his church, and took a few weeks to recover. The man who received the kidney is doing well.
When McQueen accepted the job last spring, he talked about his need to be a servant for his community, not being mediocre and quitting, but leaving a mark at doing great things.
"What am I going to do for the second half of the game, the game of my life to contribute, to give back, to secure victory, to get the win?" he told the Panama City News Herald. "I want to commit myself to that life of continuing to be a service leader, to being one who is giving back to the community. I am standing before you today not only because of the great opportunities I have had in my civilian career but also my military, and I was able to have that military career right here in Panama City and become a senior leader in the United States Army because of the investment this community made in me. It's my time to give back to this community."
McQueen came to Panama City in 1988 for a job at a community college. He met his wife there, and they raised their two children in Panama City. Over the years, he rose in the ranks of the military, from officer to Special Operations Command, to his final assignment as commanding general of the 108th Training Command headquartered in Charlotte, North Carolina. There, he commanded some 7,000 soldiers. One of their tasks was to repair Baghdad's infrastructure.
Another, more recent assignment was to help orchestrate the emergency response to Hurricane Florence on Sept. 14. He missed a recent city commission meeting because of that.
On Sept. 24, he marked his first day on the job, and outlined to the local paper what he wanted to accomplish in his first 120 days.
GOOD SAMARITAN AIMS TO SAVE LIFELONG CHURCH FROM FLOODING
He spoke of looking "down and in" and "up and out" to set the framework for a long-term strategic plan. He mentioned five-year goals and a long-term vision that stretched toward 2050.
All that lasted approximately two weeks.
When Hurricane Michael bore down on Florida's Panhandle, he ordered an evacuation for parts of the city and unrolled his Army bed mat and camouflage blanket in the corner of the police chief's office. As the eyewall of the monster storm passed over the city, the police station's roof threatened to lift. Water trickled into the building.
When the storm passed, he surveyed the damage in this city of 40,000 people. Ninety percent of all the power poles were down. One of the two wastewater treatment plants was inoperable. Cellphones weren't working. The city's lush tree canopy was in splinters, covering roads and homes.
"This is Baghdad with trees," he said. "One hundred percent collapse of infrastructure."
His own home wasn't damaged — "only a few roof tiles" — which allowed him to pour all of his focus into the city.
Now, more than two weeks since the storm, he's still sleeping in the chief's office, but took a day to fly to Washington, D.C.
His retirement ceremony from the military was Friday.
SMALL TOWN RALLIES IN SUPPORT OF AMERICAN FLAG MURAL
It was his first day off since before the storm.
After, he plans to return to Panama City and pull on his combat boots for the long haul.
He knows he has his work cut out for him. Tens of thousands of homes are unlivable, and in a city where 75 percent of the schoolchildren get free or reduced price lunch, it will be a challenge to find affordable housing — or any housing at all — for the needy.
Said McQueen: "I'm going to rebuild the economic engine of the city. We're going to work the problem, and create a solution."
The Associated Press contributed to this report.