House votes to speed decision on oil pipeline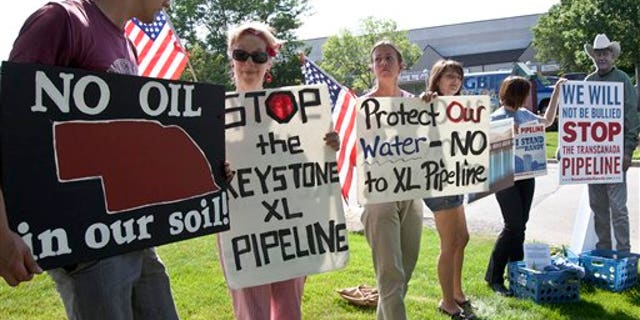 NEWYou can now listen to Fox News articles!
WASHINGTON – The House voted Tuesday to speed up a decision by the Obama administration on a contentious plan to send oil from western Canada to the Texas Gulf Coast.
By a 279-147 vote, lawmakers endorsed a Nov. 1 deadline for the State Department to decide whether to approve the $7 billion project. A Canadian company wants to build a 1,900-mile pipeline to carry crude oil extracted from tar sands in Alberta, Canada, to refineries in Texas.
Rep. Fred Upton, R-Mich., chairman of the House Energy and Commerce Committee, said the proposed Keystone XL pipeline would create thousands of jobs and help cut nearly $4-a-gallon prices at the gas pump. If the United States does not act soon, the oil is likely to go to China or other countries, Upton said.
"Are we going to stand by and watch China receive imports from our ally while we are forced to rely on imports from unstable countries? I sure hope not," Upton said.
Environmental groups say the pipeline would bring "dirty oil" that requires huge amounts of energy to extract and could cause an ecological disaster in case of a spill.
The pipeline planned by Calgary-based TransCanada would travel through Montana, South Dakota, Nebraska, Kansas and Oklahoma before reaching refineries in Houston and Port Arthur, Texas.
The project would double the capacity of an existing pipeline from Canada, and supporters say it could significantly reduce U.S. dependence on Middle Eastern oil.
The State Department has authority over the pipeline because it crosses an international boundary. The Obama administration calls the House bill unnecessary. Officials have pledged to decide on the project by the end of the year.
The State Department is expected to complete an environmental analysis next month, and officials have scheduled a series of public meetings this fall in affected states.
Project opponents contend an earlier report by the State Department glossed over crucial issues such as pipeline safety and the risks posed by the proposed route over the massive Ogallala Aquifer, which supplies drinking water to people in eight states.
Opponents point to a July 1 spill in Montana's Yellowstone River as an example of the dangers pipelines pose. A 12-inch ExxonMobil Corp. pipeline ruptured beneath the river, spilling an estimated 50,000 gallons. The cause has not been determined.
"While the pipeline disaster on the Yellowstone River in Montana is still unfolding, we should not approve a pipeline that isn't needed, will raise gas prices and threatens drinking water and other resources from the Great Plains to Texas," said Susan Casey-Lefkowitz, international program director of the Natural Resources Defense Council.
The bill now heads to the Democratic-controlled Senate, where it is unlikely to pass.
___
Follow Matthew Daly on Twitter at http://twitter.com/MatthewDalyWDC