Homicide by assault charge for teen in Utah referee death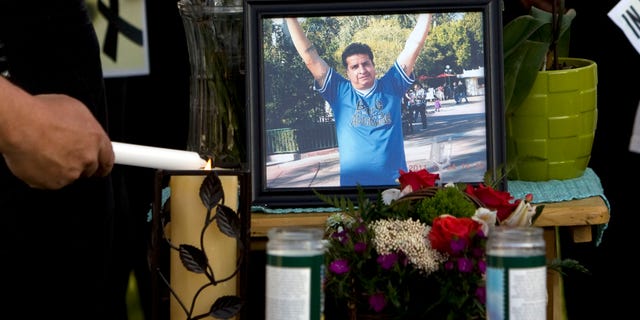 SALT LAKE CITY – A Utah teen accused of punching a soccer referee who later died was charged Wednesday with homicide by assault, a count issued when an attack unintentionally causes death.
Salt Lake County District Attorney Sim Gill announced the charges, saying he will seek to try the teen as an adult.
A homicide by assault charge is less serious than manslaughter. It carries up to five years in prison for adults, but penalties can be less for juveniles.
The 17-year-old has been in juvenile detention since April 27 when the incident occurred at a recreational-league soccer match in a Salt Lake City suburb.
Authorities say the teenager was playing goalie when 46-year-old Ricardo Portillo called a penalty on him for pushing an opposing player. The teenager began arguing with Portillo and then struck him in the head.
Portillo was taken to the hospital in fair condition. Hours later, he went into a coma. He never regained consciousness and died Saturday.
Funeral services are being held Wednesday in Salt Lake City for Portillo, who leaves behind three daughters and four grandchildren.
A wake is scheduled to run from 1 to 7 p.m., followed by a religious service. Both are at the Rail Event Center Salt Lake City, and are open to the public.
After the funeral, Portillo's remains will be returned to his hometown of Guadalajara, Mexico. He moved to Utah from there 17 years ago.
Family members said Portillo loved soccer, and had been working as a referee in different leagues for eight years. His oldest daughter, Johana Portillo, said he had been attacked before by players, even having his legs and ribs broken. Though his daughters begged him to quit, he said he couldn't give up his passion.
Portillo was a longtime referee, be he was not licensed by the Utah Soccer Referee Committee.
The incident occurred in a game held by La Liga Continental de Futbol, an unaffiliated soccer league created in 2009. The league holds games for children ages 4 to 17 each Saturday at a junior high school field in Taylorsville.
The league president, Mario Vasquez, said earlier this week that the league will hold an adult, co-ed soccer tournament in Portillo's honor May 25-26. The funds will go to his family.