Holloman Air Force Base Hosts Joint Training Exercise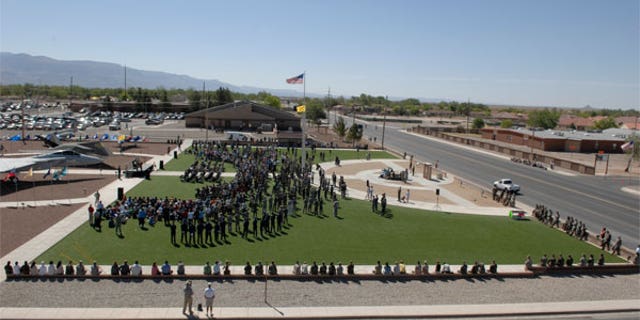 HOLLOMAN AIR FORCE BASE – The 49th Wing at Holloman will be hosting an aerial exercise involving a number of aircraft March 17-26.
The exercise is taking place in airspace over portions of White Sands Missile Range, Fort Bliss and Holloman.
According to a press release from 49th Wing Public Affairs officer Capt. Bryant Davis, he stated that during the exercise residents could expect to see low flying aircraft and possible night flights.
"With an exercise of this scope, we realize there will be some impact to the communities of Otero, Lincoln and Dona Ana counties," Bryant said. "We hope to provide everyone with as much advanced notice as possible in order to eliminate any questions about aircraft or operations that might concern our neighbors in the surrounding communities."
Bryant said the exercise is standard military training and residents should not be alarmed if they see numerous aircraft in the sky or military personnel in their military vehicles driving slowly through local areas during the day.
"It's military training and it's at the airspace over at White Sands Missile Range, we utilize that range on a normal basis," Bryant said. "There will be a variety of aircraft but for security reasons we're not going to disclose which ones are actually here."
Bryant said the exercises should be conducted mostly during the day but there could be nighttime operations as well.
"I think it's going to be mostly during the day, like normal operations here, but there is the potential for increased military activity. People could experience increased low flying aircraft throughout the day," Bryant said. "There could be nighttime operations and just other things that can be associated with other exercises done here in the past."
Bryant also said Holloman is doing its best to be proactive with the community because there could possibly be more exercises in the future.
"It's mostly trying to be proactive to let people know that they could see increased numbers of aircraft or a little bit of noise but it's important to remember that Holloman itself is a strategic part of the Air Force at large and the Department of Defense," Bryant said. "These exercises are taking advantage of our airspace which really is a national treasure."
Bryant added that if anyone should see something they feel is questionable they should contact the 49th Wing Public Affairs office at 572-5406 or 572-7383 during regular business hours. For after hours call 572-7575.