Historic Baptist church hires same-sex couple to lead congregation in DC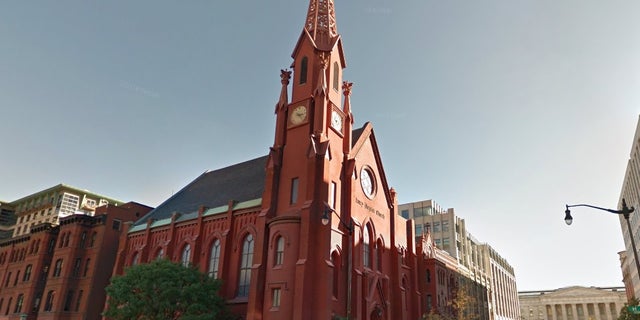 NEWYou can now listen to Fox News articles!
A historic Baptist congregation in Washington, D.C. recently hired a same-sex married couple to serve as senior ministers for their church.
MORE THAN 1,000 TO ATTEND CONSERVATIVE PRESBYTERIAN GATHERING
Calvary Baptist Church, a congregation formed in the 19th century by abolitionists, voted unanimously to call Sally Sarratt and Maria Swearingen to the positions of co-pastors.
Carol Blythe, spokesperson for Calvary Baptist, told The Christian Post that this was the first time the progressive congregation had an openly gay leadership.
PASTOR'S TEENAGE DAUGHTER WHO WAS MISSING FOR DAYS FOUND ALIVE
"Scripture is full of heroes of the faith who history, tradition, and religious authorities said could not be used, and yet these men and women were the very ones God chose to do God's work in the world," said Blythe.
"Calvary's only criteria for hiring our new senior ministers was to discern who God was leading us to for this time in our church's 150-year history and it is clear it was Maria and Sally."
Blythe directed CP to a statement from the church regarding the new co-pastors, noting that the two will begin their service to Calvary Baptist on Sunday, Feb. 26.
"The married couple come to Calvary from Greenville, South Carolina, where Sarratt has been serving as associate chaplain for behavioral health in the Greenville Health System and Swearingen as associate chaplain at Furman University," the church said in the statement released on Monday.
"Sarratt has also been filling the role of part-time associate minister at Greenville Unitarian Universalist Fellowship. Both Sarratt and Swearingen were ordained at their home church, First Baptist Church of Greenville, after it adopted and implemented a non-discrimination policy in 2015."
In 2012, Calvary Baptist garnered headlines for voting to disaffiliate from the theologically conservative Southern Baptist Convention.
The Rev. Amy Butler, the senior pastor at Calvary Baptist at the time, told CP in a 2012 interview that the decision came due to assorted differences the congregation had with the SBC.
Click Here to Read the Full Story at ChristianPost.com