High-speed chase in California ends in fiery crash, one killed
One person was killed in a fiery multi-vehicle crash on the Pacific Coast Highway in Southern California early Wednesday after a pursuit of a stolen car, officials said.
The crash happened around 8 a.m. in Malibu, after the vehicle being pursued by police crashed into three parked vehicles and caught fire, the Los Angeles County Fire Department told FOX 11.
One person died at the scene, while another was taken to the hospital in unknown condition, fire officials said.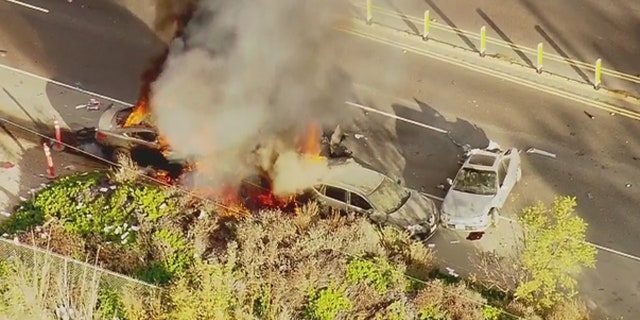 Firefighters worked to douse a blaze that spread from the mangled cars to brush along the hillside, about 30 miles west of Los Angeles.
ILLEGAL IMMIGRANT CHARGED IN DUI CRASH THAT KILLED TEENAGE GIRL
Three deputies were treated at the scene for possible smoke inhalation, officials told FOX 11.
The crash near Kanan Dume Road caused traffic to be backed up in both directions for hours.
The Associated Press contributed to this report.