High-speed 18-wheeler chase ends in fiery crash; driver barricaded in truck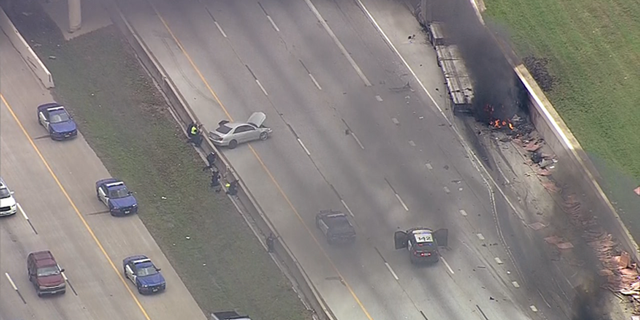 NEWYou can now listen to Fox News articles!
A police chase of a speeding 18-wheeler truck ended with a fiery crash Friday afternoon in Arlington, Texas.
Early reports say that police in Fort Worth tried to stop the truck going eastbound on Interstate 30 but the driver didn't stop, Fox 4 News reported.
The high-speed chase ended after the truck hit several vehicles before crashing on the side of the highway.
It is unclear if anyone was hurt.
Fox 4 News reported that officers had their guns drawn in the direction of the truck, indicating the suspect may be barricaded in the cab.
Police believe the truck might have been stolen.