Heat Wave Smothers Large Part of U.S.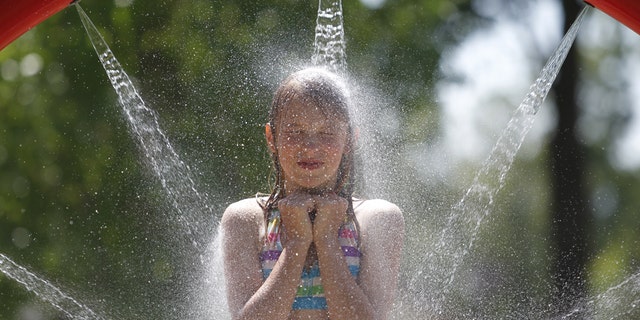 NEWYou can now listen to Fox News articles!
Temperatures soared from Kansas to Massachusetts Thursday as the hot weather that smothered the central U.S. has spread east.
The National Weather Service said excessive heat and humidity is expected to expand into the Ohio Valley and East Coast for the next three days. In some cases, forecasters are calling for heat indexes to be between 105 and 115 degrees through Friday.
"It feels very sultry, very uncomfortable, and it's just very dangerous," said Jim Lott, lead forecaster for the National Weather Service office in Wilmington, Ohio.
Scattered deaths have been blamed on the heat nationwide. The Ohio Health Department said emergency room visits in the Midwestern state have been three or four times higher than usual this week, mainly due to heat exhaustion and heat stroke cases.
The temperature could soar to 101 degrees in Toledo, Ohio -- 2 degrees above a record set in 1930. Combined with the humidity, it could feel as hot as 115 degrees across Ohio.
Thousands of homes and businesses in southern Michigan lost power Thursday morning as people cranked up air conditioner use. Ferndale Recreation Director Julie Hall said a cooling center in suburban Detroit took in numerous senior citizens after their nearby apartment lost electricity.
The temperature approached triple digits in Philadelphia and much of central and western New York. Philadelphia school officials sent students home early Thursday and canceled summer school for Friday. Cities in Pennsylvania are expecting record-breaking temperatures on Friday and waived fees at all public pools.
Meteorologist Rebecca Gould says the heat index soared to 105 degrees in Boston and 107 in the western Massachusetts city of Springfield at 4 p.m. Thursday.
The index rose to 105 in the Connecticut capital of Hartford and hovered in the 101-102 degrees range in many parts of Maine and southern New Hampshire.
James Eberle, was ready to make the most of it on New York's Jones Beach.
"This is 10 times better than the winter. I love the heat. I love the beach," the Queens resident said. He had a simple plan: "Gonna go in the water, refresh myself, lay in the breeze on the sand and just have an enjoyable day."
The Associated Press contributed to this report.