Heat wave prompts warnings, bakes nation ahead of July 4 holiday
Millions of Americans are spending the weekend before the Fourth of July sweltering in an oppressive heat wave that forecasters think will stretch at least until the end of the week before any relief arrives.
The National Weather Service said Sunday the "extensive heat wave" stretching from the Plains states to the East Coast is setting the stage for possible record high temperatures to be set through Monday.
"Numerous heat advisories and excessive heat warnings are in effect from near Memphis to Michigan, and also for the mid-Atlantic to northern New England," the NWS said. "High temperatures in the 90s to near 100 degrees, combined with high dewpoints, is expected result in heat indices of 100 to 110 degrees for many areas."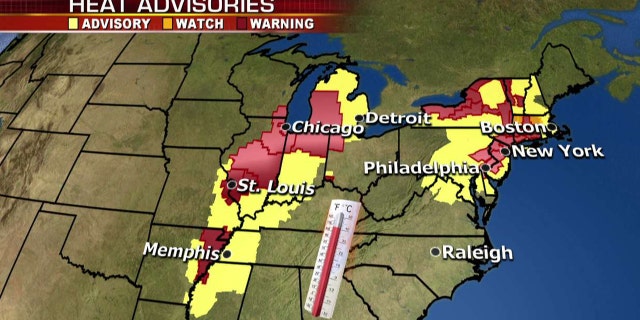 In Milwaukee, residents did what they could to find creative ways to cool down on Saturday, from hitting up splash pads at parks to stopping by the ice cream truck.
"It's a wonderful feeling just to see everyone out having a good time, no drama. Everything is going on -- picnics, barbecues," Kesha Hutcherson told FOX6 as she brought her children to a splash water park.
The heat is having an effect in neighboring Illinois as NASCAR closes out its annual weekend at Chicagoland Speedway.
ILLEGAL IMMIGRANT ARRESTED FOR STARTING WILDFIRE IN COLORADO, POLICE SAY
Temperatures were in the 90s for the Xfinity race on Saturday, and it reached well into triple digits inside the cars. Drivers put bags of ice in their suits and splashed cold water on their faces during pit stops, according to the Associated Press. There are scattered thunderstorms in the forecast for the NASCAR Cup Series race on Sunday afternoon.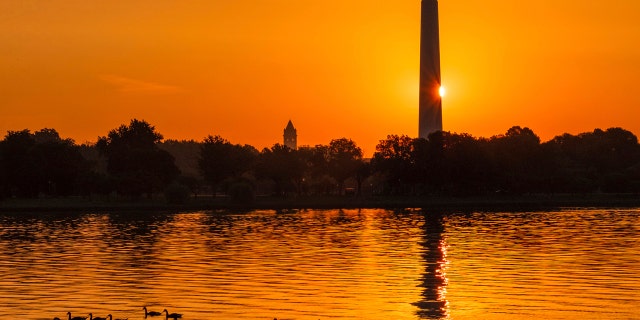 Further east, excessive heat warnings have been issued for parts of the Philadelphia area. Nearly 150 people, mostly elderly, had to be evacuated from the Virtua Long-Term Care and Rehab center in Mount Holly, N.J., and moved to two other facilities after a mechanical problem shut down power and air conditioning, according to FOX29.
For tourists visiting the city's popular landmarks, having water nearby was a must.
"If you bring enough water and you just try to keep moving and keep the breeze going you can stay cool and have a good time," one man told FOX29.
The Associated Press contributed to this report.