Head of Navy's 7th Fleet to be relieved of duty after second deadly mishap in Pacific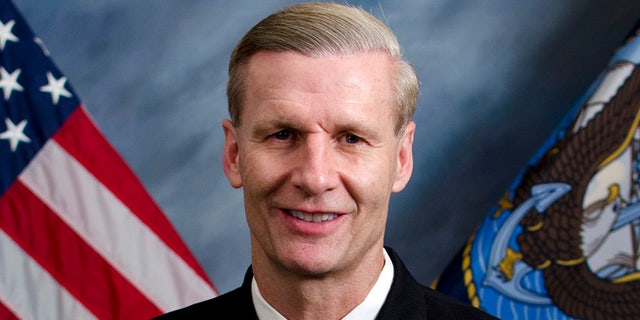 The U.S. Navy will relieve the commander of its 7th Fleet from duty after the fleet suffered its second deadly mishap in less than three months, a U.S. defense official confirmed to Fox News.
An official statement from the Navy regarding the relief of Vice Adm. Joseph Aucoin was expected late Tuesday night. The decision was first reported by the Wall Street Journal.
The 7th Fleet has been involved in three collisions since January, the last two of which have resulted in the deaths of 17 sailors.
In the latest mishap, the USS John S. McCain collided with an oil tanker before dawn Monday near Singapore. Ten sailors were reported missing, but officials confirmed Tuesday that Navy divers had found the remains of some sailors in a flooded compartment.
In June, seven sailors died when the USS Fitzgerald and a container ship collided in waters off Japan.
In January, the USS Antietam guided missile cruiser ran aground near Yokosuka base, the home port of the 7th Fleet, and in May another cruiser, the USS Lake Champlain from the Navy's 3rd Fleet, had a minor collision with a South Korean fishing boat.
U.S. Pacific Fleet Commander Adm. Scott Swift told a news conference Tuesday that each of the incidents was "unique," but added that "they cannot be viewed in isolation."
Swift added the Navy would conduct an investigation "to find out if there is a common cause ... and if so, how do we solve that."
Navy Adm. John Richardson, the chief of naval operations, on Monday ordered a pause in 7th Fleet operations for the next few days to allow commanders to get together with leaders, sailors and command officials and identify any immediate steps that need to be taken to ensure safety.
A broader U.S. Navy review will look at the 7th Fleet's performance, including personnel, navigation capabilities, maintenance, equipment, surface warfare training, munitions, certifications and how sailors move through their careers. Richardson said the review will be conducted with the help of the Navy's office of the inspector general, the safety center and private companies that make equipment used by sailors.
Fox News' Lucas Tomlinson and the Associated Press contributed to this report.