Hawaii's false missile alert: FCC chief warns about 'Boy Who Cried Wolf' effect
It was a false alarm this time. But if it happens again, don't consider it a joke.
That's the message federal authorities are desperately telling Hawaiians on Monday amid heavy criticism after the state's emergency alert system produced a false missile warning that sent the Aloha state into a panic over the weekend.
"It obviously caused panic in this case, but also, very importantly, most people are familiar with the story of 'The Boy Who Cried Wolf', FCC Chairman Ajit Pai told FOX & Friends on Monday. "The worst thing, going forward, would be for these false alerts to undermine public confidence in the wireless emergency alerting system because, when a real emergency hits, you want people to take that information seriously."
Pai said the FCC is working with FEMA, elected officials and Hawaii Emergency Management Agency staff as part of their "full investigation" to figure out what went wrong Saturday.
"BALLISTIC MISSILE THREAT INBOUND TO HAWAII. SEEK IMMEDIATE SHELTER. THIS IS NOT A DRILL," the alert message said.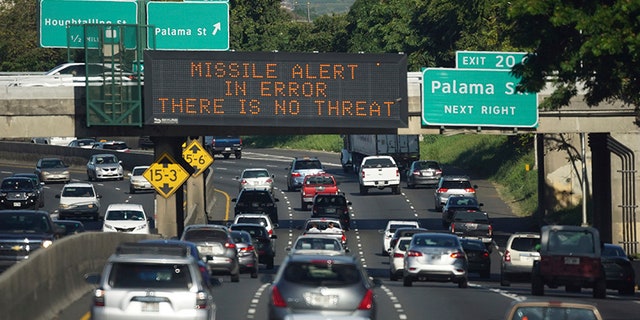 And the alert remained for 38 minutes, according to Pai, until a revised message was sent to phones noting the false alarm.
But during the time in between, parents clutched their children, huddled in bathtubs and said prayers, the Associated Press reported. Students bolted across the University of Hawaii campus to take cover in buildings. Drivers abandoned cars on a highway and took shelter in a tunnel. Others resigned themselves to a fate they could not control and simply waited for the attack.
In the aftermath, Hawaii officials then apologized repeatedly and said the false alert was sent when someone hit the wrong button during a shift change.
"The state of Hawaii did not have safeguards in place to prevent that human error from causing a false alert to go out," Pai told FOX & Friends. "The last thing we want is for elected officials, citizens, everybody to be scrambling, thinking 'there really is a missile coming to Hawaii' or any other kind of emergency."
He added: "We are looking very closely at some of the steps that we need to take to make sure that the vulnerability we saw in Hawaii on Saturday is not replicated around the country."
Pai's comments echoed a plea Sunday from Homeland Security Secretary Kirstjen Nielsen.
"I would hate for anybody not to abide by alert warnings coming from government systems," Nielsen told Fox News Sunday. "They can trust government systems, we test them every day. This is a very unfortunate mistake."
She said the alerts are "vital," as "seconds and minutes can save lives."
"So, first, I would encourage everyone not to draw the wrong conclusions," Nielsen added.
The incident followed a similar one on Jan. 3, 2017, when emergency warning sirens across Oahu, and some on Kauai, went off accidentally because of an "inadvertent activation in the course of preparing for" a test, the Honolulu Department of Emergency Management said.
During a test last month, 12 of the state's 386 sirens also played an ambulance siren. In the tourist hub of Waikiki, the sirens were barely audible, prompting officials to add more sirens and reposition ones already in place.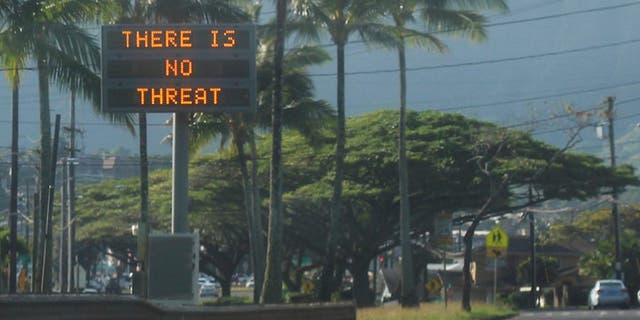 But the massive blunder Saturday is feeding skepticism about the government's ability to keep the public informed during a real emergency.
"My confidence in our so-called leaders' ability to disseminate this vital information has certainly been tarnished," said Patrick Day, who told the AP he sprang from his bed when the alert was issued Saturday morning. "I would have to think twice before acting on any future advisory."
Hawaii House Speaker Scott Saiki said the system Hawaii residents have been told to rely on had failed miserably. He also took emergency management officials to task for taking 30 minutes to issue a correction, a delay that prolonged the panic.
"Clearly, government agencies are not prepared and lack the capacity to deal with emergency situations," he said in a statement.
For their part, Hawaii Gov. David Ige and Vern Miyagi, the emergency management administrator, apologized and vowed changes.
"I am sorry for the pain and confusion it caused. I, too, am extremely upset about this and am doing everything I can do to immediately improve our emergency management systems, procedures and staffing," Ige said.
Lisa Foxen, a social worker and mother of two young children in east Honolulu, said the best thing to come out of the scare was that it pushed her family to come up with a plan if there is a real threat.
"I kind of was just almost like a deer in headlights," she said. "I knew what to do in a hurricane. I knew what to do in an earthquake. But the missile thing is new to me."
The 911 system for the island of Oahu was overwhelmed with more than 5,000 calls. There were no major emergencies during the false alarm, Mayor Kirk Caldwell said.
Authorities were criticized for not sending an alert to mobile phones when fires ripped through Northern California in October, killing 40 people. Officials had decided not to use the system because they couldn't target them precisely enough and feared a wider broadcast would lead to mass evacuations, including people not in danger, snarling traffic that would hamper firefighting and rescues efforts.
The Associated Press contributed to this report.