Hawaii volcano's two-story lava wall blocks crucial escape route, residents urged to steer clear of toxic cloud
NEWYou can now listen to Fox News articles!
Lava gushing out of cracks caused by Hawaii's Kilauea volcano over the weekend formed a two-story wall blocking parts of a highway crucial for residents to escape, as authorities warn them to steer clear of the plumes of acid and extremely fine shards of glass billowing into the sky.
A "small explosion" was reported just before 1 a.m. at the volcano's summit that sent an ash plume 7,000 feet into the air. The wind carried the ash southwest, USGS Volcanoes reported.
"If you are at home, stay indoors with the windows closed. Turn on your radio and listen for updates from authorities," officials said.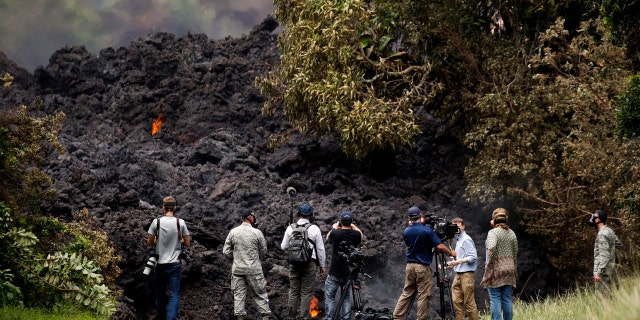 The active flows from some of the 22 fissures that have opened up on the Big Island since volcanic activity began more than two weeks created a 20-foot wall of lava on Highway 137. Scientists said the new lava is hotter and moves faster to cover a wider area.
By Saturday night, the lava flow crossed over the highway, cutting off the route for thousands of residents in the Lower Puna communities, officials said.
"[Look at] how huge this thing is," Herman Andaya with Maui Emergency Management, told Hawaii News Now. "The magnitude in the flow, and everything."
He added, "I'm speechless."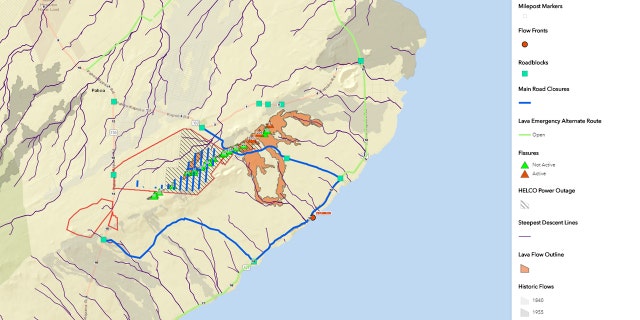 HAWAII VOLCANO ACTIVITY PROMPTS NEW THREATS AS MAN SERIOUSLY INJURED FROM LAVA SPATTER
Hawaii County Civil Defense Agency announced parts of Highway 137 was closed between Kamaili and Pohoiki roads. Highway 130 was open to residents, but cracks that began forming on the road also threatened to shut down that route. Authorities attempted to stiffen the cracks last week with metal plates.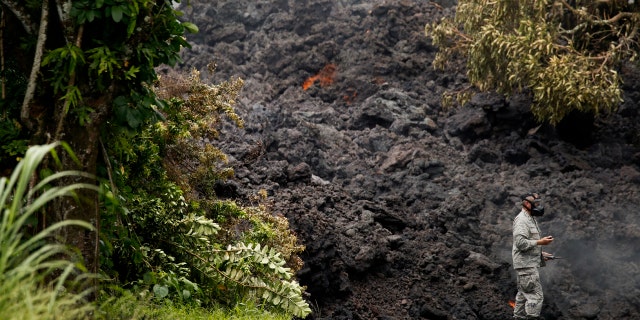 Road closures, however, isn't the only issue Hawaiians near the volcano are worrying about.
The Civil Defense Agency said Sunday night two lava flows that entered the ocean formed a toxic steam cloud caused by a chemical reaction when the lava touches seawater. The lava haze -- or "laze" -- is a mix of hydrochloric acid and steam with fine glass particles that causes health hazards including trouble breathing and irritated eyes and skin.
Joseph Kekedi, an orchid grower who lives and works about 3 miles from where lava dropped into the sea, said luckily the flow didn't head toward him.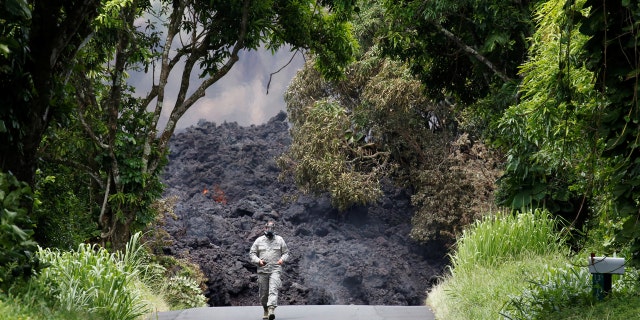 "Here's nature reminding us again who's boss," Kekedi said.
Scientists said the acid in the plume was about as corrosive as diluted battery acid. The glass was in the form of fine glass shards. Getting hit by it might feel like being sprinkled with glitter.
The toxic plume traveled about 15 miles west of where the lava met the ocean.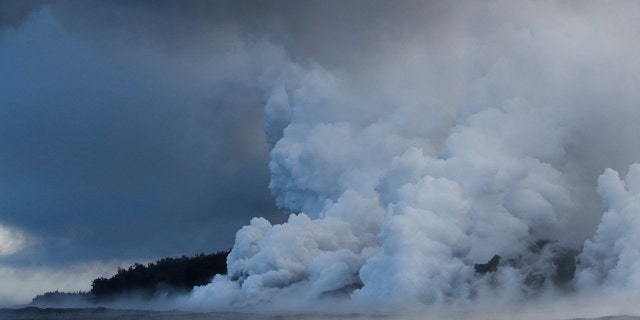 HAWAII VOLCANO CREATES TOXIC STEAM CLOUDS AS CORROSIVE AS DILUTED BATTERY ACID
The active lava flows and bush fire was still a threat Monday morning. Officials added that sulfur dioxide levels have tripled and warned people to take action to limit exposure.
Kilauea has burned some 40 structures, including two dozen homes, since it began erupting in people's backyards in the Leilani Estates neighborhood on May 3. Some 2,000 people have evacuated their homes, including 300 who were staying in shelters. One man has been injured after being hit with lava spatter on his shin that "shattered everything from there down on his leg."
The Associated Press contributed to this report.