Hawaii volcano lava flow destroys over 70 homes, utility poles as it cuts off key highway
NEWYou can now listen to Fox News articles!
A fast-moving lava flow from Hawaii's Kilauea volcano has crossed over a key highway, taking out power lines as officials said the number of homes destroyed since the eruption began earlier this month has risen to over 70.
The Hawaii County Civil Defense Agency confirmed to Fox News that a total of 71 homes have been destroyed, and they expect the number to rise. There are additional structures that have been destroyed, such as outhouses and sheds, officials added.
A "fast-moving" lava flow covered Highway 132 on Tuesday, which connects the commercial center of Pahoa with smaller towns and farms in the area.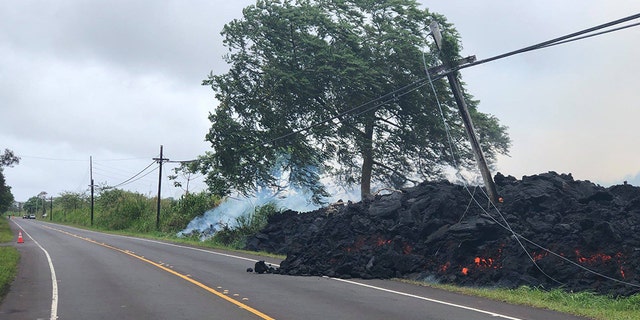 "It took the road," Civil Defense Administrator Talmadge Magno told Hawaii News Now. "We lost 132 and there's no power down to that area and, as explained to me, it's gonna be an extended outage."
The U.S. Geological Survey said the lava flow from Fissure 8 at one point advanced 800 yards over 80 minutes before slowing down for about 200 yards an hour as of Wednesday morning.
The lava destroyed the local electric utility's equipment on the highway, which knocked out power to Vacationland and Kapoho Beach Lots neighborhoods toward the coast. Hawaii Electric Light Co. said it was evaluating how to provide power to these communities once the eruption is over, but it won't be able to finalize a plan until the area is stable.
HAWAII VOLCANO 'NOT SAFE' TO ROAST MARSHMALLOWS OVER, USGS SAYS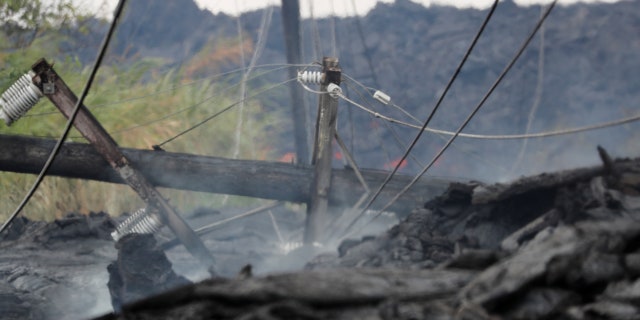 The eruption has so far destroyed more than 400 utility poles, the company said.
Authorities alerted residents in the Kapoho area, including Kapoho Beach Lots and Vacation Lots, to evacuate as the fast-moving lava flow near Highway 132 picked up speed and advanced toward the area.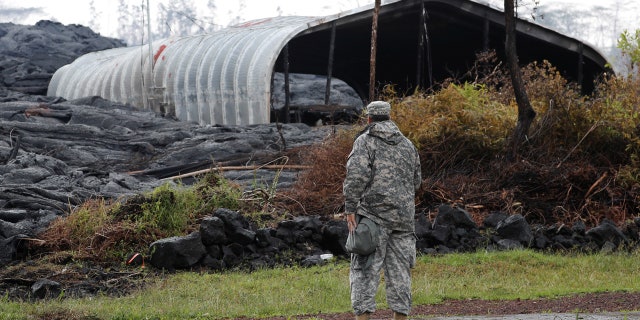 "You are at risk of being isolated due to possible lava inundation of Beach Road near Four Corners," the warning message said, according to Hawai News Now.
HAWAII VOLCANO GENERATES FAST-MOVING LAVA CAUSING NEW EVACUATIONS, SHUTS MAJOR ROAD
Molten rock trapped at least one person who was rescued by authorities. The Kilauea volcano has been unleashing danger on the remote, rural southeastern side of the island for nearly a month, displacing thousands of resident.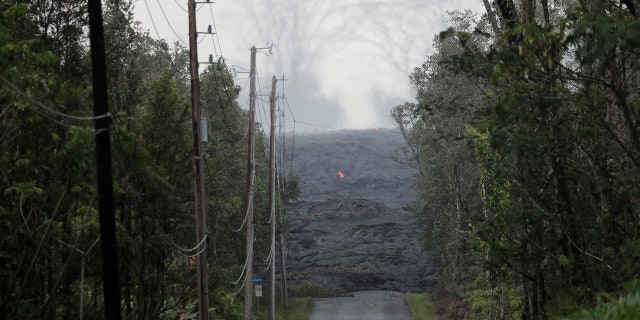 Lava was shooting up from cracks in the ground and blowing strands of volcanic glass, while explosions at the summit were sending small bursts of volcanic ash as high as 15,000 feet.
Wind was carrying volcanic glass, gases, pollution and ash particles to other parts of the island. Authorities on Tuesday advised residents to minimize exposure to avoid irritation to skin and eyes and breathing problems.
A new fissure has opened, bringing the total number of cracks spouting lava to 24 since the volcano began erupting on May 3, Hawaii County Civil Defense said.
Lava also has covered two wells at a geothermal plant. County officials said the plugged wells were stable and being monitored, and no dangerous gases have been released.
Ormat Technologies, a Nevada company that owns the Puna Geothermal Venture plant, told the Associated Press it could not assess the extent of the damage to the wells.
Fox News' Dan Gallo in Hawaii and the Associated Press contributed to this report.