Hawaii volcano lava flow destroys home in dramatic video
Dramatic video released Sunday showed the moment lava pouring from Hawaii's Kilauea volcano came through the window of a home and burned everything in its path.
The Kapoho home was one of hundreds that have been charred by the massive lava flow coming from Fissure 8 on Hawaii's Big Island over the last few days.
Hawaii officials believe about 600 homes have been destroyed by lava flows since the Kilauea volcano erupted more than a month ago, according to The Daily Mail. Vacationland, a private development, has seen about 160 homes burned and Kapoho Beach Lots has seen about 330 houses burned.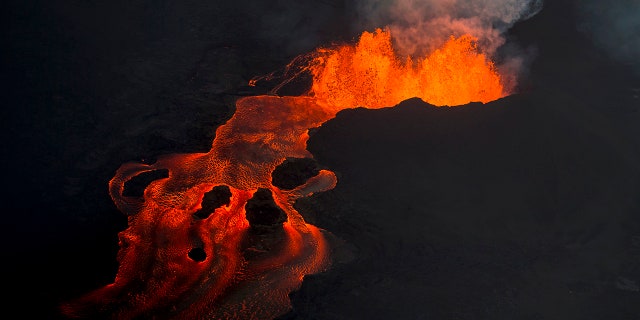 Kilauea's eruption is its most destructive in modern times, Hawaii County Mayor Harry Kim said. The mayor said he's never seen so many homes destroyed in such a short amount of time.
HAWAII VOLCANO'S TOLL NEARS 600 HOMES DESTROYED BY LAVA; NO END IN SIGHT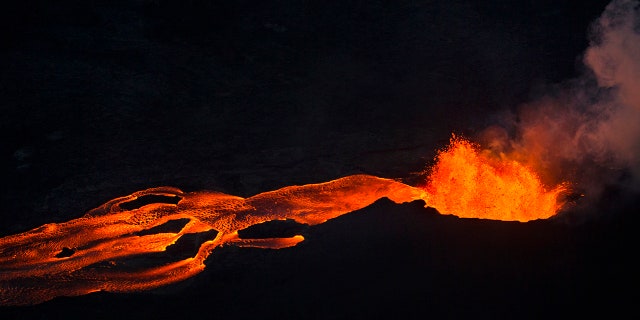 "If you combine the three of them [Kapoho, Vacationland and Leilani], we're talking about 600 homes," Kim said.
Meanwhile, officials said Fissure 8 continues to produce a large flow that is entering the ocean at Kapoho Bay and producing a large plume, KHON2 reported.
Officials warned that gas emissions from Fissure 8 have doubled triggering air quality concerns, according to Hawaii News Now. Scientists said a new lava delta has grown to 200 acres, while lava from Fissure 8 bursts 130 to 180 feet up in the air.