Hawaii volcano drawing onlookers seeking hot lava selfies, frustrating authorities
Is it even an official disaster if you didn't document it on social media?
As residents awaited a possible major eruption at Kīlauea volcano's summit on Hawaii's Big Island, authorities have had to issue precautions -- especially to people who want to take a selfie by the rivers of molten lava.
Alan Richmond, spokesman for the Hawaii Police Department, told Fox News on Monday it's a frustrating scenario.
"We've got the road blocks up in the area, and about 100 National Guard on site that are supposed to be doing security," Richmond said. "We have put out alerts that remind people that if they aren't supposed to be in the area, they shouldn't be there."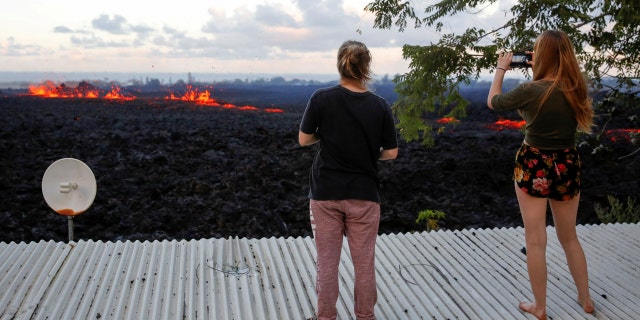 Richmond, however, acknowledged that some residents who were given placards to allow them back into their homes during daylight hours might have handed off the cards to others looking for a lava close-up.
HAWAII VOLCANO EMITTING DANGEROUS LEVELS OF SULFUR DIOXIDE, RESIDENTS COMPLAIN OF ASHFALL
Demian Barrios calls himself a "lava chaser." In a Facebook Live stream Sunday, Barrios was filming in the Puna district of Hawaii, where a 17th fissure opened up early Sunday morning.
His videos on social media show rocks and blobs of hot lava hurling into the air.
Barrios didn't share his exact location while filming the video to those who asked on Facebook, but called the experience "absolutely mind blowing."
"It's really something that makes me feel alive," Barrios told TIME about lava chasing. "There's an overwhelming sense of power and respect and love that you feel standing there being able to see that. It's almost addictive."
Authorities say the volcano has produced nearly 20 active lava fissures.
Robert Hughes, the owner of Aloha Junction Bed and Breakfast in Volcano, told CBS News that although he's received "tons" of cancellations he suspects he'll soon hear from adventurers and photographers who want to see the eruption up close.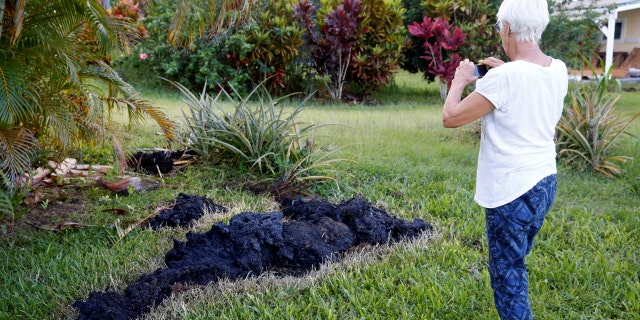 "I'm not too worried about it because I've lived here so long and I've seen it go through lots of different episodes," said Hughes, who has lived in his village for 45 years.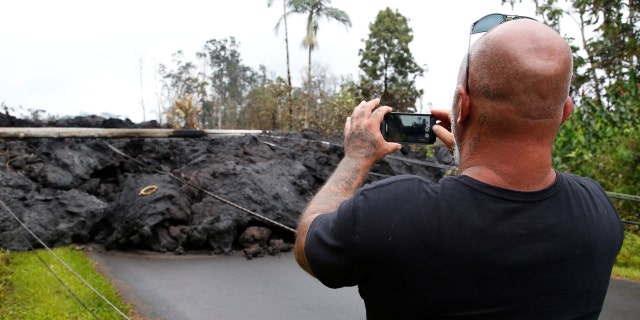 Lava this weekend spread across hundreds of yards of private land and loud explosions rocked the neighborhood on Hawaii's Big Island not far from the Leilani Estates subdivision, where more than a dozen other active vents opened over the past week.
LAVA FROM HAWAII VOLCANO NEARS AN EVACUATION ROUTE
Nearby resident Richard Schott, 34, watched from a police checkpoint as the eruption churned just over a ridgeline and behind some trees.
"I've actually seen rocks fly over the tree line, and I can feel it in my body," Schott said. "It's like a nuclear reaction or something."
Overall, nearly 2,000 people have been told to evacuate since May 3, when the volcano first erupted, and lava has destroyed more than two dozen homes.
Fox News' Barnini Chakraborty and The Associated Press contributed to this report.