Hawaii braces for Hurricane Lane, as officials say there are not 'enough shelters for everyone'
As Hurricane Lane barrels towards Hawaii as a Category 4 storm packing sustained winds of 155 mph, officials in the Aloha state are warning residents they don't have enough shelter space to meet the "estimated demands" of the population.
The National Weather Service's Central Pacific Hurricane Center said in its 11 a.m. ET advisory that Lane, which is likely to cause catastrophic damage with winds 155 mph or above, is located about 460 miles south-southeast of Honolulu and moving west-northwest at 9 mph. The storm strengthened to a Category 5 storm with 160 mph winds before slightly weakening, but hurricane warnings are in effect for Hawaii's Big Island and the island of Maui.
"Some weakening is forecast during the next 48 hours, but Lane is forecast to remain a dangerous hurricane as it draws closer to the Hawaiian Islands," the CPHC said.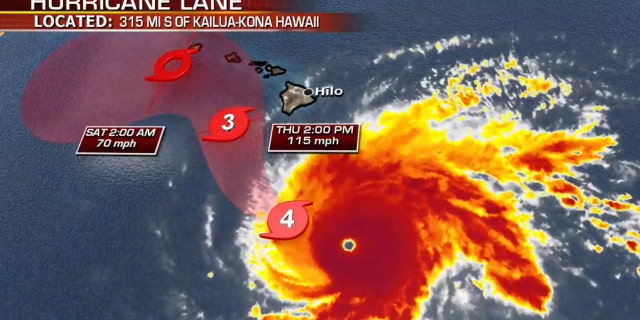 On Tuesday, emergency management officials across the state urged residents to prepare to evacuate if needed or shelter in place if its safe. Hawaii State Emergency Management Administrator Tom Travis said during a news conference that the priorities for state officials are to manage shelters because "we do not have enough shelters for everyone."
"The sheltering policy should be – if you're not in a flood zone, most citizens should remain in their homes," Travis said. "If in a flood zone, actively seek shelter elsewhere with someone not in a flood zone or public shelter."
Earlier this year, a state report on hazards facing Hawaii warned there are only 277,376 available shelter spaces for the islands' estimated 1.4 million people.
HURRICANE LANE STRENGTHENS TO CATEGORY 5, HEADS TOWARD HAWAII
"Hurricane evacuation shelters are a last resort option for residents and visitors who do not have a safer place to stay," the report noted. "There are insufficient hurricane evacuation shelters to meet the estimated demand of the population and these shelters have no supplies."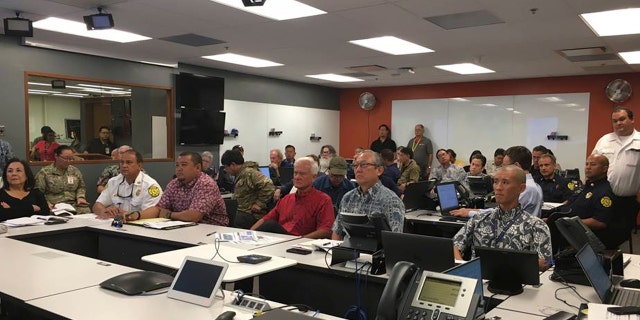 State officials said residents instead should harden their homes, and stock up on two weeks-worth of food and water to weather the storm and its after-effects.
"It's obvious there aren't enough shelters," Brig. Gen. Moses Kaoiwi, director of joint staff of the Hawaii National Guard told Hawaii News Now after the report was issued. "If you have a home you can shelter in, it's probably better to stay at home."
Public schools on the Big Island and in Maui County are closed Wednesday until further notice, and Hawaii Gov. David Ige is allowing non-essential state employees on the Big Island and Maui to go on administrative leave from Wednesday to Friday as Hurricane Lane approaches. Employees on Hawaii and Maui islands who work in disaster response as well as in hospitals and prisons are required to report to their jobs, the governor said.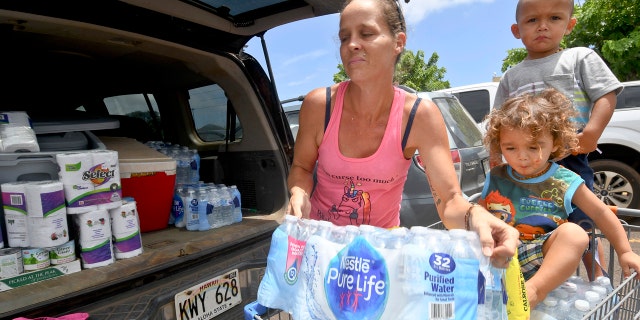 A statement from the U.S. Navy also revealed Wednesday that Hawaii-based ships and submarines have started to "sortie," or are being moved from their locations, ahead of the storm in order to avoid potential damage.
"Based on the current track of the storm, we made the decision to begin to sortie the Pearl Harbor-based ships," Rear Adm. Brian Fort, commander, Naval Surface Group Middle Pacific, said. "This allows the ships enough time to transit safely out of the path of the storm."
The ships will stay at sea until Lane's potential dangers pass and "will be positioned to help respond after the storm, if needed," the statement said. Because of "maintenance availabilities," certain ships will not depart but they'll take "extra precautions to avoid potential damage."
President Trump said on Twitter in the path of Lane needs to prepare for the storm.
"Everyone in the path of #HurricaneLane please prepare yourselves, heed the advice of State and local officials, and follow @NWSHonolulu for updates," he wrote. "Be safe!"
Ige said the state will start to see impacts beginning late Wednesday into Thursday, and that Federal Emergency Management Agency has been "very proactive" with placing food, water and emergency equipment throughout the state.
"We do anticipate that we would activate the National Guard depending on what the impact would be," he told reporters.
HURRICANE LANE NEARS HAWAII AS STATE BRACES FOR HEAVY RAIN, POWERFUL WINDS
The center of Lane is forecast to pass just west of the Big Island on Thursday, likely weakening to a category 2 or 3 storm by then, according to Fox News Senior Meteorologist Janice Dean. Hurricane-force winds extend 40 miles from Lane's eye, while tropical storm-force winds extend 140 miles from the center of the storm.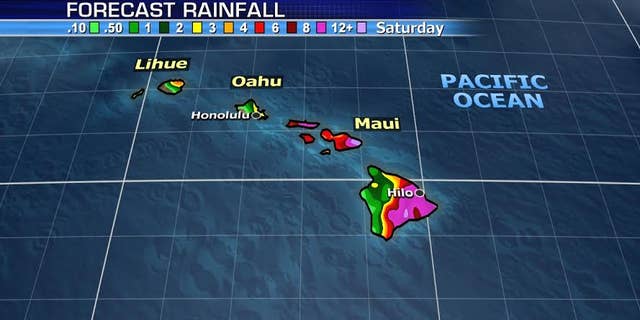 "Not only are hurricane-force winds possible on the Big Island, but torrential rain, flooding, and mudslides are likely given the steep terrain," Dean said.
The forecast track is still uncertain, and if the storm slows down "catastrophic flooding" will be a danger, as the towering mountains on the islands of Maui and the Big Island could lead to deadly flash flooding and landslides. Besides heavy rain, tropical-storm force winds of up to 73 mph are possible for all of the islands, in addition to coastal flooding and possible storm-surge flooding if the center of Lane moves close to land.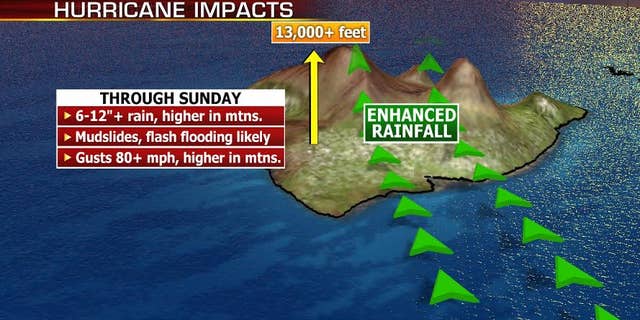 Lane is the strongest storm to come this close to Hawaii in recorded history, and only six category 5 storms have been located in this part of the Pacific Ocean.
The Aloha State, while located in a vast ocean, has not had many brushes with large tropical systems. According to the National Oceanic and Atmospheric Administration's database, there is no record of a hurricane track within 65 nautical miles of either Maui or Honolulu since statehood.
For Hawaii, the "big one" came in in 1992 when Hurricane Iniki struck the island of Kauai as a Category-4 storm, causing $3.2 billion in damage and killing six people, according to Dean.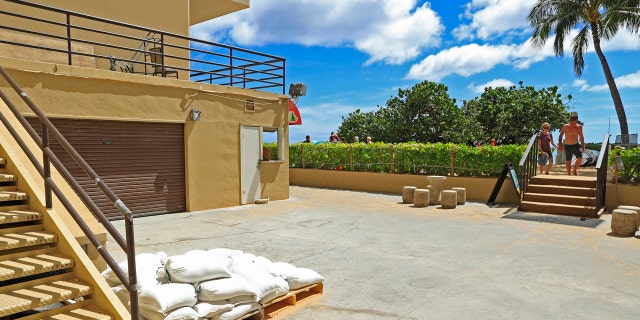 Iniki is still the costliest and deadliest storm to hit the islands in recorded history, and only two other hurricanes -- an unnamed storm in 1871 and Dot in 1959 -- have hit a Hawaiian island in that time period.
Fox News' Janice Dean, Kimberly Wagner, Lucas Tomlinson, Elizabeth Zwirz and the Associated Press contributed to this report.