Hasidic 'defectors' find challenges, isolation in pursuing a new life
This is the last of a three-part series on insular enclaves of ultra-Orthodox Jews, the struggles they face, and the controversies that follow them.
Chaim Fishman had all the requisite markers of a devoted Hasidim – the payot (side locks), the black hat, the white button-down shirt under the black frock.
Growing up, his home was devoid of television, music, the Internet, the Harry Potter and Roald Dahl novels likely to sit on the bookshelves of other kids.
When he reached his early teens, the Brooklyn-born youth said he barely knew English or math beyond the rudiments.
But there came a day when Fishman, for all that devotion and strict adherence to his faith, did something utterly unthinkable to so many others in his tight-knit community. He questioned his cloistered life. By extension, that meant questioning the fundamentals of Hasidic Judaism, which views many of the staples of modern life as toxic,  and the outside world as morally compromised.
His father played a pivotal role. He'd begun to push the boundaries himself, surreptitiously reading books about such secular subjects as science and history and sharing his newfound knowledge with Fishman.
"I was getting into trouble for asking questions," Fishman, 20, said, recalling the reaction from relatives and yeshiva officials. "We don't talk with anyone; we believe once we start talking to other people, we will assimilate to their ways and lose our traditions."
"It's heresy."
Fishman left the yeshiva despite the objections of his mother, who had divorced his father over the rift that opened with the violation of Hasidic teachings. He went to live with his dad. Along the way, he began to shed the side locks and other trappings of Hasidism, replacing them with jeans and T-shirts.
Going 'OTD' brings liberties and shunning
Fishman ultimately became what Hasids call "OTD," or "off the derech." Derech means "path" in Hebrew.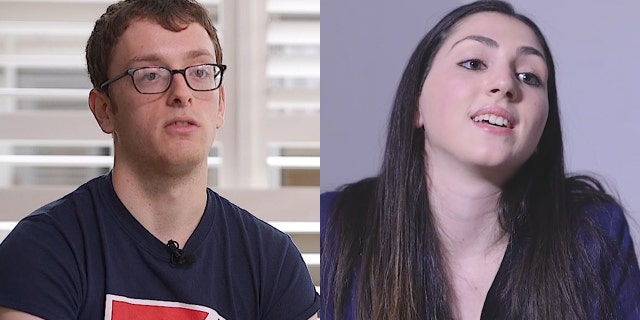 OTDs often find they are shunned by the community, and even by their siblings and parents. To become an OTD is to almost certainly bring about the end of a marriage, which is frequently arranged at a young age.
Those suspected of wayward thoughts could also find themselves summoned by the Vaad, community leaders who are empowered to enforce norms and rules.
"The group was known to resort to extreme measures," Frimet Golberger wrote about these "enforcers" in an essay in The Forward. She recalled the tumultuous events leading to her leaving the community, "such as slashing car tires, when warnings and threats did not work to restore modesty."
Hasidic and other Orthodox rabbis told Fox News that families generally are encouraged not to disavow children or other relatives who leave the community, or the religion.
"I don't know the extent of the OTD phenomenon, but any Jew who has become disillusioned about his or her Jewish community is one too many," said Rabbi Avi Shafran, the director of public affairs for Agudath Israel of America. "And I have great sympathy for those who have felt unable to live the lifestyle of the community of their birth."
He continued: "All the rabbinic authorities I know of who have addressed the question of how observant Jewish parents should treat family members who have given up observance have counseled parents to in no way reject the child, but rather maintain good relations with him or her. Those rabbis say that rejecting a Jew, especially one's own kith and kin, is, in our world, counterproductive and improper."
"I had never been on a date. I had never heard of the Beatles. And I thought 'May the Force be with you' meant 'May God be with you.'"
Other members of the community said they were familiar with -- and have strongly condemned -- reports of intimidation or violence directed at people rumored to be deviating from the teachings or considering becoming OTD.
Watch: Community in Conflict: Reporter's Notebook
"There were issues years ago -- there are hooligans in every community," Rabbi Joseph Kolakowski, who is Hasidic, told Fox News. "There are idiots, but they are vigilantes who take things into their own hands. It was not an organized thing. There are people who do things. It's their personality that is fundamentalist, not the religion that is fundamentalist."
Many who have left the community say they find the transition to life outside Hasidism awkward -- and terrifying. Some find themselves adrift in a world whose culture and language they barely understand. They say they struggle to pay bills, lacking even the rudimentary skills required to get and keep jobs.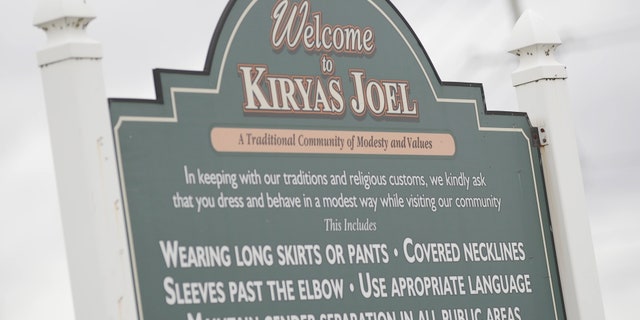 "Often they don't have the tools," said Samuel Heilman, a sociology professor at the City College of New York and an authority on Hasidic Jews. Hasidic leaders, he said, "do their best not to teach males secular subjects -- this renders them unfit for many jobs. They grow up speaking only Yiddish. They're functionally illiterate."
And there is also the social emptiness that accompanies their departure from the Hasidic path, particularly if, the rabbis' statements to the contrary, they are shunned by the community they left behind, cut off from a network in which neighbors and strangers come to your aid as a sort of extended family.
"They lose the feeling of family," he added. "It's a lonely life when they leave."
To help, a sort of support system has emerged for those who have left the community.
Take, for instance, an array of blogs and social media pages, as well as support groups such as the New York-based Footsteps. Its Twitter profile says it "provides social, educational, and vocational services to people grappling with the consequences of leaving their ultra-Orthodox communities."
Several defectors have written books about their experience, with titles such as the best-selling memoir "Unorthodox: The Scandalous Rejection of My Hasidic Roots," by Deborah Feldman, "All Who Go Do Not Return," by Shulem Deen, and "Cut Me Loose: Sin and Salvation After My Ultra-Orthodox Girlhood" and "Legends of the Talmud" by Leah Vincent.
Deen wrote that he often felt clueless when listening to his non-Hasidic friends chat: "I had never been on a date. I had never heard of the Beatles. And I thought 'May the Force be with you' meant 'May God be with you.'"
Shafran put it this way: "Insularity is, by necessity, part of Orthodox Jewish life, as the surrounding society is saturated with much that is anathema to observant Jewish life."
Fishman has adjusted with help from his dad, who lent moral support and guidance.
Fishman pushed to fill in the gaping holes in his education, leaving the Hasidic high school he attended after one semester to go to a modern Orthodox school where half the day focused on nonreligious subjects. Still, he felt he lagged others his age.
He transferred to a public high school that had a program for gifted students. After some help from a grandmother who, though concerned about his leaving Hasidism, helped him with math, he ultimately graduated near the top of his class. And he's now wrapping up his freshman year at the University of Pennsylvania.
When he returns to his childhood community, he dons the yarmulke (skull cap) and black frock out of respect, he said. But his siblings don't walk alongside him in the street. And Fishman laments the lost and frayed relationships with friends and relatives, particularly his mother.
"It's incredibly hard for her," he said. "We were fighting all the time" when he challenged Hasidic tenets.
Their rabbi, and some relatives, assured his mother he'd return to Hasidism. "They said that I went crazy," he said, "and that I would be back."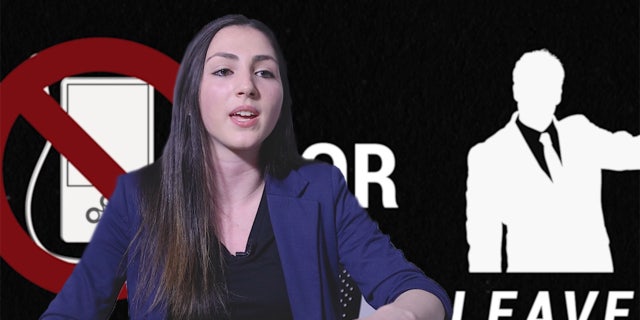 Fishman knows there are other groups, such as the Amish, whose social structure is built around very insular communities.
"But the Amish are on farms, they live isolated," he said. "We are living like this right in the middle of New York City. We're in the middle of New York City and we don't know other cultures, other people. My Hasidic friends don't know English."
An iPad? An expulsion

Bina Aaron, who grew up the oldest of nine children in the Hasidic community in Borough Park, Brooklyn, relished accompanying her grandfather to his job in Manhattan's diamond district when she was about 12 years old.
"I was introduced to the outside world when my grandfather took me to work," said Aaron, who is now 21. "I saw there was another way of living."
She started questioning the rules of the community. And little by little, she came to rebel. Maybe it was as small and subtle an act as leaving the top button of her blouse undone. Or as bold a statement as speaking to classmates about menstruation, a taboo. She refused to wear thick black stockings like others in the community. Instead, she spun visions of herself in blue jeans.
Watch: Community in Conflict: Hasidic Jews & Education
With money earned as a baby sitter, Aaron even bought an iPad -- a window onto the wider world. She took the tablet to a corner near Chinatown to get a Wi-Fi signal, and stayed there for hours.
Officials at her religious school found out, though. They told a friend to stop walking home with Aaron from school every day, she said, and to cut off communication with her.
"She stopped talking to me, I felt betrayed," Aaron said. "I was very close with her."
One day, when Aaron was 14, school officials summoned her to a meeting. It was about that iPad, Aaron recalled.
"They said I had two options: Either put a filter on my iPad or not come back," she said.
Her decision? "I didn't return."
Aaron learned of a park where other Hasids considering defection gathered, and she started going there. A few years later she left home to live with her boyfriend, also a former Hasidim She took remedial classes, obtained her GED and now majors in neuroscience at Amherst College in Massachusetts.
"In the community," she said, "women are stuck in this position where you have to take care of nine to 12 kids, take care of your husband, and your husband works."
"Now," she continued, "I can create my own career path, I can learn anything that I want. I can make my own decisions."
'Family, nachas, joy'
Many Hasidic Jews take exception to descriptions of their life as unhappy and oppressive. "It's a community where most people want to work for a living," said Kolakowski, who said his children attend yeshivas in the Orange County, N.Y. village of Kiryas Joel and in Bloomingburg, and are getting a strong education.
Kolakowski said there's little interest in the community in changing the religion-focused nature of their schools. He said many people go on to work in their community, or for fellow Hasidim, and the education and skills they cultivate are adequate.
Many also say that their communities have benefits that are lacking elsewhere: tight family units, and a network of people ready to come and help a stranger, among other things.
Even those who have left take pains to note the positive aspects of Hasidic communities. And it's not uncommon among those who've left to reflect wistfully -- if fleetingly -- on the sense of community and tranquility that can come from having everything planned out.
"For those who were born and bred into the Hasidic community and never questioned the basic tenets or oppressive lifestyle, it works," Goldberger said. "They would not trade my freedoms for their predetermined lives."
"Their lives are filled with family, nachas, joy, from the children and grandchildren, weddings and holidays. There is much beauty in these tight-knit communities — in a life with a seemingly greater purpose."
"There is beauty and peace of mind in that lifestyle, and there's also tremendous oppression of individual liberties," Goldberger said, "because no one has much agency over themselves and their decisions in life. These two are not mutually exclusive."
Weighing the OTD choice
Several Hasidim in the community who spoke to Fox News said they were unhappy with the various constraints under which they live, and would like to be OTD -- but they're afraid.
"What we in sociology always know is that whatever deviance exists in a society is only a fraction of what is really going on," said Heilman. "You can double or triple the number of people you know about. There are thousands of people who want to break out."
Footsteps staff members said they have about 1,400 members, with the number of people who turn to them growing by 10 percent each year. Those who take the step of reaching out, and actually moving toward an exit from their community, are among the most daring and strong-willed.
"Whatever you see, it's not really what people are feeling," said a Hasidic man from Kiryas Joel, an almost entirely Satmar Hasidic community that is one of the strictest. "They're like herds, where someone is telling everyone what to do and think and they follow blindly."
Watch: Community in Conflict: Hasidic Jews & Tech
The man, who spoke on the condition of anonymity for fear of reprisals, said he wants to leave Kiryas Joel for a less-oppressive environment.
But he doesn't want to jeopardize his marriage. He said his wife tolerates his criticisms of Hasidic restrictions, but does not share most of his views and doesn't want to leave Kiryas Joel.
They both have cellphones that have not been inspected and fitted with Hasidism-approved filters. And he secretly teaches his young children topics like advanced math and geography.
He is careful, he said, to tell the kids not to mention their illicit education. At the same time, he tries to explain that they're really not doing anything wrong.
While he is much bolder than other Hasids who are unsettled by the rules imposed by leaders of a religion many otherwise view fondly, the father harbors anxiety about repercussions because of his defiance.
"Every day I think about how something might happen because what I'm doing is illegal," he said nervously. "They have called me, and another time my wife, to say they heard we had a cellphone we weren't supposed to have."
Departures from the community have become such a concern among Hasidic leaders, as well as leaders of other Orthodox Jewish groups, that Agudath Israel of America held a session on the issue at one of its national conventions.
Shafran, who has met with former Hasidim, urges those who are disillusioned to consider other sects, noting that some may find one that is more suitable.
"There are degrees of insularity, and many Orthodox communities, even Haredi ones, offer an environment that many who have fled very insular communities would be comfortable in," Shafran said. "I pray that such people explore that wider Orthodox world rather than throwing out a precious baby with what they consider the bathwater."
Black hats and suits
Frimet Goldberger left Kiryas Joel about 10 years ago.
She was banished after being summoned by the Vaad, which told her she was violating modesty rules. The community leaders had suspected she was not adhering to the rules, interrogating her on various occasions, for instance, about whether she was shaving her head as required.
"From an early age, we intuitively knew that head-shaving is the only way a married woman could carry herself," she said. "We were taught that growing one's hair after marriage is the worst sin, and as I later learned, a reason to be expelled."
Goldberger and her husband were outwardly adhering to the norms, but at home those norms were bent -- by watching TV with the shades drawn, taking unapproved vacations, growing her own hair under the wigs she wore.
"I felt immense guilt at the thought of condemning my family to hell, and the feeling followed me like a haunting shadow," she said.
Lightning struck with a letter from the Vaad in the mailbox. "The letter was curt and stated unequivocally that because of my failure to dress in accordance with the stringent tznius -- modesty rules of the holy shtetl -- our 3-year-old son could no longer attend school," she wrote in her essay.
Watch: Community in Conflict: Hasidic Jews & Backlash
She went to the meeting with the Vaad with her husband. "At the table were eight middle-aged men in black hats and suits; they sported long gray-and-white beards," Goldberger recalled in her essay. "I sat with my trembling hands folded on my lap and adjusted my long black skirt — part of the uber-modest ensemble I had carefully chosen hours before — for the umpteenth time, and awaited the storm."
The men said they could not abide her violations of those modesty rules -- they'd heard she let her hair grow.
"How did the Vaad Hatznius find out?" she wondered. "I knew that the Vaad Hatznius was going to catch on to my secret at some point, and now it had."
"The next morning, we decided to leave the community for good," she said. "We no longer felt capable of maintaining an extreme Hasidic lifestyle."
She maintains ties she had when she was in the community, but notes that in the aftermath of her exit, "they are strained."
"It's not easy, especially when I have siblings and family whom I love dearly in the community," Golberger said. "These are only people I ever knew — my life, from cradle to grave."