Gym sign saying 'Tired of being fat and ugly? Just be ugly' under fire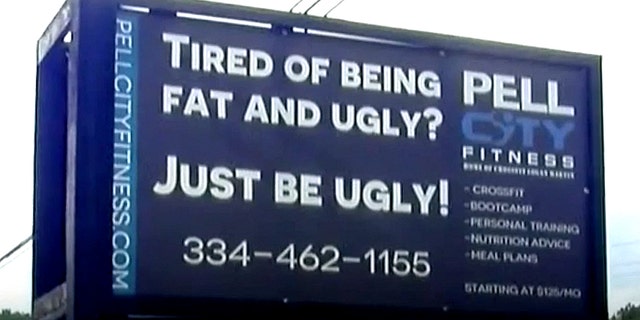 A gym advertisement that reads, "Tired of being fat and ugly? Just be ugly!" has struck a nerve with some Alabama residents, but the owner said he's not backing down.
Scott Campbell, the owner of Pell City Fitness, has come under fire for a sign that was erected in Pell City on May 15 with officials telling him to take it down or risk a fine, the Washington Post reported Thursday.
Two days after the sign was installed, a Pell City sign enforcement official ordered Campbell to take it down in 24 hours or he would be fined, the gym owner said. The official did not give him a reason why the sign needed to be removed, according to Campbell.
Instead of taking down the sign, Campbell posted a video on his Facebook page in front of the sign to gather support.
NO PAROLE FOR WOMAN IN GEORGIA TEEN'S SLAYING IN ALABAMA
"They've given me till 5 o'clock tomorrow evening to take it down. So it's going to stay up 'til 4:50 tomorrow afternoon," he said.
Social media users were torn at the video with some stating the sign was great and others saying it was offensive.
"Pay the fine and leave it up!!! Great sign," one social media user wrote.
"The sign should be taken down. Think about it, some [people] are already struggling being bullied & my opinion is that the sign is making it harder on [people] being bullied already," another person wrote. "I'm not fat nor am I ugly."
Campbell said the city manager, Brian Muenger, contacted him and said the "issue involved a necessary permit" which he did not have.
"The owner is aware of his failure to properly request a permit and has since filed a request," Muenger told Campbell in an email, the Post reported. "The city does not object to the content of the sign."
ALABAMA TOWN TERRORIZED BY 'POOP TRAIN' GETS FREE FEBREZE SAMPLES
Campbell said the sign was still up and he has not been issued a fine. He also said his sign has fulfilled his hope; more clients.
The gym owner said in the video that he used to be 300 pounds and was a former Alabama State trooper and Montgomery County sheriff's deputy before an incident with a suspect pushed him to lose weight. He said he hoped other people who wanted to lose weight had a similar realization.
"If you were offended by the sign, you would not fit in at the gym," he said.