Gunman in Detroit kills 3 women, injures 3 officers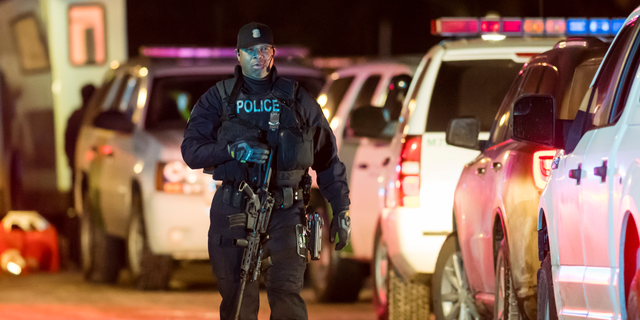 NEWYou can now listen to Fox News articles!
DETROIT – A gunman involved in a domestic dispute killed his girlfriend and two women who came to her aid at a Detroit house, and wounded three officers during a 14-hour standoff that ended Monday when police found the suspect dead of a self-inflicted gunshot, authorities said Monday.
Police identified the dead suspect as Lance Smith, 49, who had no criminal history and had not been in contact with police before the shooting.
Police received a call about shots fired at the residence at 10:27 p.m. Sunday. The call was placed by an off-duty Detroit Public Schools police officer who happened to live in the neighborhood, Police Chief James Craig said.
Responding officers were shot at and "pinned down for almost an hour," Craig said.
The three officers wounded in Detroit followed what one national group called one of the deadliest periods in recent memory for police with seven officers killed in the U.S. last week. The National Law Enforcement Officers Memorial Fund said six of the seven were shot and one died in an auto crash.
During the Detroit confrontation, police reinforcements were eventually able to remove two female relatives of Smith's girlfriend who had been fatally shot and the off-duty school officer, who had injuries that were not life-threatening. The two relatives had gone to the house for support during the dispute.
"Unfortunately, they became victims as well," Barren said. The names of the three female victims were not immediately released.
The off-duty school officer is married to one of the female victims, police said. Smith shot two other officers who responded to the scene. Their wounds also were not life-threatening.
"The suspect was heard saying, 'I will not be taken without a fight,'" Craig said. "He clearly expressed an intention to do harm; he clearly expressed intention to hurt police officers."
Craig told a news conference that police last spoke to the suspect at about 2:30 a.m. Monday.
Officers used a robot to enter the home later Monday morning to confirm that the gunman and a third female victim were dead, Michigan State Police Lt. Michael Shaw said.