Gunfire injures Chicago boy, 5, for 2nd time in a year and a half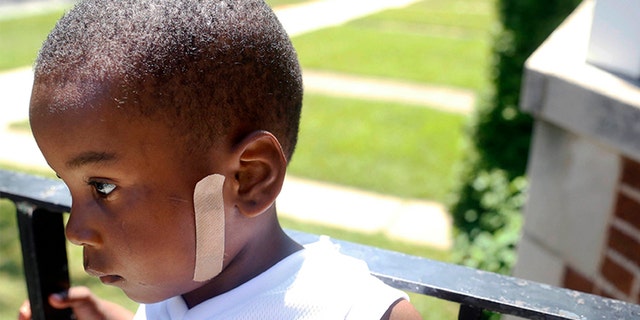 A 5-year-old Chicago boy who was shot in the face last year while walking down a street has been hurt by gunfire again, this time accidentally shooting himself in the hand on Tuesday, police said.
Kavan Collins was handling a gun in the South Chicago neighborhood when it discharged. He was taken to a local children's hospital, where he is in good condition, according to the Chicago Sun-Times.
It was not immediately clear why he was holding a gun, and officers are questioning a man in connection with the incident, police told the newspaper.
Collins was walking down a block in Chicago's South Side last June 2016 with his mother, brother and family friend when he was hit in the face by a stray bullet.
"He was with his mother, and it wasn't like I was doing something wrong, having him out after hours," his mother D'Antignay Brashear told The Associated Press after that shooting. "I thought he was safe."
He was seriously wounded in that episode, but has since recovered.
Elsewhere in Chicago, police said Monday that they are looking for at least two suspects in the slaying of a 15-year-old boy who was shot in the head while delivering newspapers with his stepfather.
Anthony Riccio, chief of the bureau of organized crime, said police believe Brian Jasso's death Sunday morning may have been a case of mistaken identity and Jasso was shot as part of a gang war he had nothing to do with. Police say neither the teen nor his stepdad had any gang affiliations or arrests.
Riccio said witnesses told police that the boy's stepfather was at a stop sign when a white van appeared to accelerate and strike his car. He says the van flashed its bright lights in an apparent signal to pull over. But the stepfather sensed something wrong and when he drove away a passenger in the van opened fire with a handgun.
The boy's stepdad is an independent contractor who delivers the Tribune and other newspapers.
Chicago Tribune publisher and editor Bruce Dold says the newspaper is "saddened and stunned by the news."
Last week, the Department of Justice announced that Chicago's U.S. attorney's office is getting additional staff prosecutors so it can do more to reduce violent crime.
Attorney General Jeff Sessions said a total of 40 new prosecutors will be distributed among 27 locations. Most will receive just one, including the southern district of Indiana and the western district of Michigan. The Chicago-based northern district of Illinois will get three, as will a district of Maryland, according to the DOJ.
President Donald Trump has criticized Chicago for high rates of gun violence, while city officials contest that Trump oversimplifies the problem.
The Associated Press contributed to this report.