Guiding the Greatest Generation: Volunteers for our aging veterans go beyond call of duty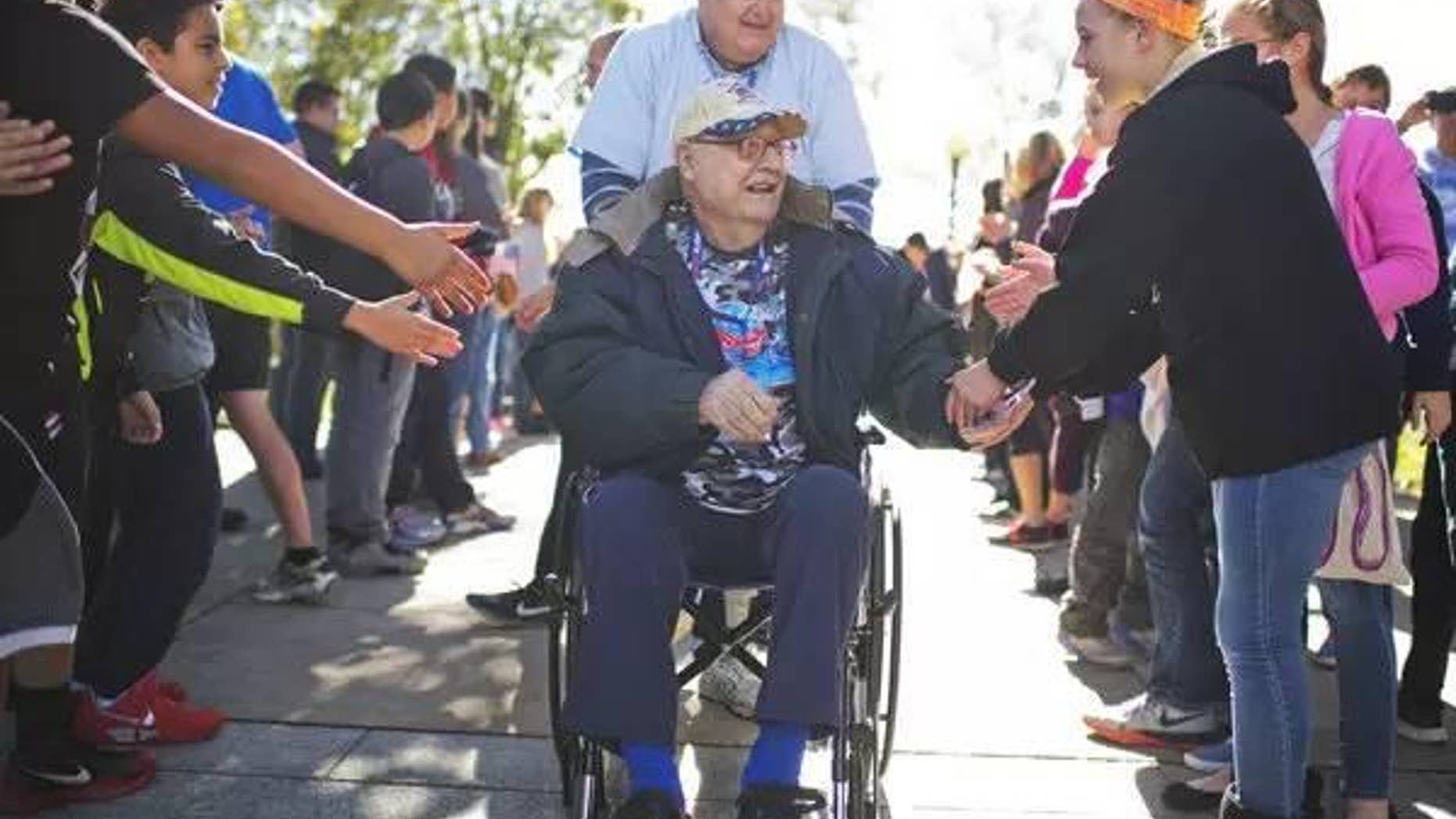 As often as three times a week, Bob Alexander parks his car at Ronald Reagan Washington National Airport, makes the trek through the main terminal, and gets in line to pass through security.
Shoes and belt intact again, he heads to the gate. And he waits.
Alexander is under no obligation to run the dreaded airport security gauntlet again and again. He volunteers to do it. His mission is to ensure every Honor Flight veteran coming down the gangway feels welcomed to the nation's capital.
WATCH NOW: Volunteers with the Honor Flight Network thank our veterans
The Honor Flight Network is a nonprofit organization that brings veterans from all over the country to Washington, D.C., to visit their war memorials. Co-founder Jeff Miller says since the first flight went wheels up in 2005, the network has brought nearly 170,000 veterans to D.C. to see the World War II Memorial, the Vietnam Veterans Memorial, the Korean War Memorial, Iwo Jima and sometimes the Changing of the Guard ceremony at Arlington National Cemetery.
"There is absolutely no way we could do this at the level we've done it without volunteers," Miller said as he looked around at the dozens of neon yellow "Ground Crew" T-shirts blanketing the area.
An unpaid quintet plays patriotic songs for as long as it takes dozens of vets to deplane. Volunteers not only rev up a rousing greeting for each incoming flight, but many then pair up with a veteran to escort throughout the day.
Some volunteers are designated photographers. Others work as tour guides. Still others work as administrators, voluntarily organizing the volunteers.
Jody Swacha works her spreadsheets every day to be sure each bus has a knowledgeable guide.
"Some days I have four or five different hubs that have requested tour guides, so I could have 20 to 30 guides out on one particular day," Swacha commented as she hawked a group meandering through the WWII Memorial's concrete arches toward the fountain. "They have to be veteran friendly. They have to be looking out for wheelchairs, instructing them not to take pictures while they're walking backwards so we don't end up with a veteran landing in the pool here."
As dozens of octogenarian — or even nonagenarian — gentlemen (and some women) storm the nation's capital, it's clear it's a big undertaking. Many veterans use canes or walkers or even wheelchairs. There is the occasional oxygen tank.
Swacha says the work is worth it. She had three great uncles (Cecil, Bill and Don) who were in the service but who never got to see their memorial.
"It's just amazing being around all these guys who've been there, done that. I've been with guys who've cleaned out concentration camps, who were this close to putting up the flag at Iwo Jima. I've met first-wave landers at Normandy. It's absolutely incredible," she said.
Alan Lewis recently welcomed a group of veterans who met in a Florida airport at 2 a.m. to make their flight to D.C.  They boarded buses at 8 a.m., hit all the memorials and had lunch — in a pouring rainstorm.
"With the weather and the traffic, it was an interesting day," Lewis recalled. But he said it's important work, because "these veterans in large measure didn't get the ticker tape parade down Broadway or Main Street after their service."
Alexander thinks nothing of his weekly airport runs. His father served in WWII. He tears up when he talks about him.
"He was on what is known as the Second Schweinfurt Raid where 600 planes were in the raid. Sixty were shot down. He never said anything special about it," Alexander said of his father.
Bruce Hill volunteers because his dad and uncles were all fighter pilots in WWII. But the stop at the Vietnam Veterans Memorial is especially important to him. He ran reconnaissance patrols in Laos. His brother was a dust-off pilot, carrying the wounded off the battlefield.
"I was fortunate enough to see my brother several times in Vietnam … I got home and a month later he was killed," Hill said.
At the distinctive memorial wall, Bruce gently touches Robert Hill's name etched in black granite.
"It never dawned on me that he would be killed," Bruce Hill said.
Miller expects that Vietnam veterans will likely soon be filling Honor Flights as WWII veterans become too disabled or die off.  The younger vets who are ill are invited on flights now. As veterans age and wars continue, he said he sees Honor Flight as an ageless way to honor those who served in all wars. 
"There's always a conflict. As long as there's a man, there'll be a fight somewhere," Miller said.
And he believes there will always be volunteers to keep the program going.
"They do it because they love it. They have a real passion for it."
More from Lifezette.com:
For Trump, the White House Ain't the Presidential Suite
Dems: Limiting Guns Fights Terror
A Wreath Made by Hand: Grab the kids, some vines, some holiday spirit -- and you're off