Group demanding transplants for illegal immigrants from Chicago hospital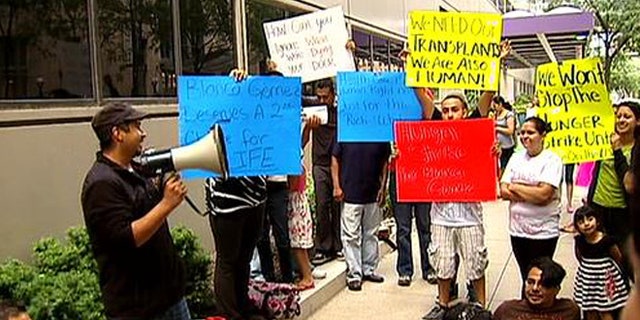 A group demanding access to organ transplants for illegal immigrants is protesting outside a Chicago hospital, saying they won't leave until the facility's CEO agrees to a meeting.
The protests at the Northwestern Memorial Hospital entered their seventh day Monday. On Sunday, 40 picketers were out in front of the hospital, while 14 were on a hunger strike, Fox 32 News reports.
"We're asking for help," said Blanca Gomez, a 23-year-old in need of a kidney transplant. "I go to dialysis three times a week. I'm not going off the hunger strike until I get on the transplant list."
The group claims 14 illegal Mexican immigrants who live in Chicago need a liver or kidney transplant, but can't afford them because they are denied health care.
Northwestern Memorial Hospital offers live donor liver transplants, but a spokesman on Sunday declined to comment about their transplant policies, Fox 32 News reports.