Group buries America's unclaimed veterans, one soldier at a time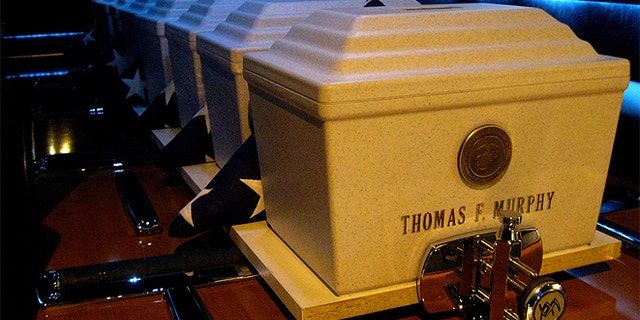 They served their country, but they died alone.
The bodies of 10 South Carolina veterans who represented four branches of U.S. armed forces during the Korean and Vietnam wars will be buried Friday with the dignity they earned, thanks to a group called the Missing in America Project. Friday's ceremonies were arranged by the South Carolina chapter of the national nonprofit group, which seeks to locate, identify and ultimately inter unclaimed remains of U.S. veterans.
"I have a very good appreciation for what servicemen and servicewomen sacrificed," said Steve Goulet, who retired from the Army in 2005 after 29 years as a combat engineer and now serves as the project's South Carolina coordinator. "I know what they put on the line every day and why they deserve to be buried with honor and dignity. They certainly don't deserve to spend eternity stored on a shelf."
The cremated remains of the veterans, including members of the Army, Navy, Air Force and Marines, will be buried during a ceremony at Beaufort National Cemetery.
[pullquote]
The veterans were identified by Goulet as: U.S. Army Spc. Arthur Brown; U.S. Army Spc. Richard L. Shuman; U.S. Army Pfc. Donald J. Byrd; U.S. Army Pfc. Joseph B. Gates; U.S. Army Pfc. Clayton G. Meeks; U.S. Army Pvt. Charles T. Rose; U.S. Marine Corps Sgt. Jacob W. Grimm; U.S. Navy Seaman Recruit Jerry P. Ghrist; U.S. Navy Airman Robert D. Blewett; and U.S. Air Force Airman Basic Edward F. Dwyer.
Launched nationwide in early 2007, the Missing in America Project has visited more than 1,400 funeral homes to date across the country in search of unidentified, unclaimed remains. In all, 6,924 cremated remains have been found and 1,929 veterans have been identified. Of those, 1,791 have been interred by the group, most recently in Washington's Tahoma National Cemetery on Nov. 25.
Like other veterans identified by the organization, Goulet said Friday's group of South Carolina soldiers from Charleston, Horry and Lexington counties went unclaimed most likely because they had no known living relatives to claim their remains, leaving their cremated remains destined to languish in funeral homes and on shelves at coroners' offices. In other cases, the remains may be abandoned by family members who could not afford to cover burial costs, he said.
Friday's military funerals, which are open to the public, will bring to 31 the number of veterans identified and interred by the Missing in America Project in South Carolina. Gov. Nikki Haley signed a law in 2012 that allows funeral homes to bury the remains of veterans or transfer them to service organizations for proper burial. Previous ceremonies have taken place at Florence National Cemetery in Florence and Fort Jackson National Cemetery in Columbia.
Goulet said it's the least America can do for men and women who served in combat.
"I really believe in my heart that all of the individuals who served their country stepped up and made a significant sacrifice," he said. "They've earned the right and deserve to be buried with dignity, honor and respect. That's why I do it. Somebody has to."
Fred Salanti, the group's founder and executive director, said he launched the nonprofit in late 2006 on a statewide level in Oregon and California after attending services in those states for veterans who did not have many — if any — mourners to pay their last respects.
"There would simply be one person from the cemetery and one person from the nearby VA clinic," Salanti told FoxNews.com. "And then I started showing up."
Salanti quickly realized that the issue was not isolated to the West Coast and the group began fanning out to other states and the estimated 26,000 funeral homes across the country. Among the deceased soldiers identified and later interred were 13 Civil War soldiers and their wives, he said. More recently, the remains of Canadian soldiers have been found in New York and are now in the process of being returned to their homeland.
"We've found people who have been on the shelves for a hundred years," he said. "Those were harder to identify of course, but we did find them, prove them and buried them."
As a former major in the U.S. Army during the Vietnam War, Salanti said it's not lost on him that he could be one of the men and women he now seeks to honor posthumously. To provide that final resting place brings "immense satisfaction," he said.
"It's a mission of the heart and the payback is that you're now part of someone's family," he said. "We become very personally involved because all of a sudden, we feel that we are then. There's a camaraderie there, they're a fellow veteran."