Grandmother, 50, dies from blood clot after marrying convicted US killer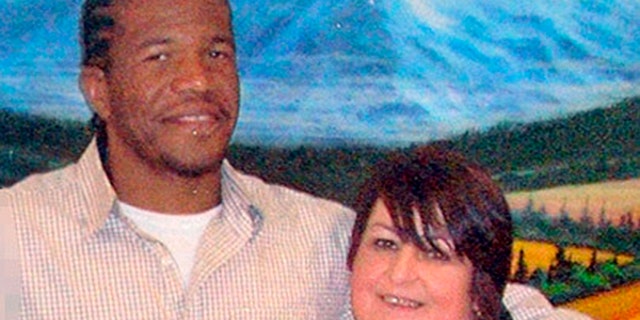 A British grandmother who married a convicted American killer, crossed the Atlantic to visit him scores of times and exchanged 12,000 letters with him died in May from a freak blood clot, a new inquest found.
Kay Frazier, 50, began writing to Gary Frazier online in 2010. When they married in 2012, she told the Sun: 'I feel safer with him than any other person.'
The 37-year-old killer is not eligible for parole from his Nebraska jail cell until 2024 after shooting two people, killing one, during a fight when he was 19.
ARKANSAS INMATES SNATCH KEYS, TAKE CONTROL OF PART OF PRISON
The divorcee later flew from the U.K. to marry Frazier in his cell, where she gave him a 'passionate kiss' but told the British tabloid they were not allowed to consummate their relationship.
Frazier unexpectedly died from surgery following a clot in her basilar artery that blocked blood flow to her brain, an inquest into her death revealed.
CONVICT WITH ESCAPE PLAN: GUARDS LET HIM REPAIR PRISON LOCKS
On one of her trips to the prison where her husband was held, she had 16 separate day visits approved.
Although Frazier admitted that flying out to see him the first time was 'madness' she said in a 2014 interview with the Sun: 'When Gary walked in it felt like I'd known him forever.'
Since British law would forbid him from moving to the country, Frazier was prepared to move to Nebraska and live with her husband.